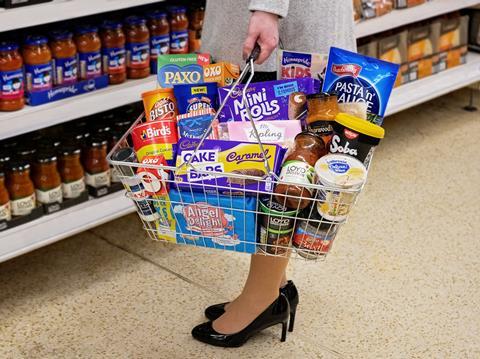 Top story
Premier Foods' annual sales and trading profits rose last year after strong trading during the coronavirus crisis built on 'substantial progress' during the period.
Group revenue for the 52 weeks ended 28 March 2020 was up 2.8% to £847.1m, with branded revenue up by 3.9% to £705.6m while non-branded revenue declined 2.5% to £141.5m.
In the fourth quarter, revenues accelerated to finish 3.6% higher than the same quarter last year, driven by a 5% jump in branded revenues.
Its core UK revenues were up 4.3% in the year, with the fourth quarter up 7.3% marking its eleventh consecutive quarter of UK revenue growth.
The strong end to the year has led to Premier upgrading its 2020/21 sales and profits expectations, despite some increased costs to meet current demand.
Last year Premier saw market share gains in all its categories during the year, and overall, delivered 47 basis points of share growth in the 52 week period.
Grocery branded revenues grew 3.3% to £514.7m in the year and increased 5.6% in the fourth quarter.
In overall terms, this reflected benefits from the Group's innovation strategy and increased consumer marketing investment in the year. Additionally, its grocery categories and brands saw a sharp increase in volumes in the last three weeks of the financial year, as large numbers of consumers in the UK sought to build household stocks of some grocery products during the COVID-19 pandemic.
The vast majority of brands in the Grocery business grew revenues in the year. Bisto and Batchelors ; the largest two brands, delivered revenue growth during the year. Nissin Soba Noodles & Cup Noodles continue to grow "very strongly", with sales in the year up 88% compared to the prior year.
In cooking sauces, Sharwood's and Loyd Grossman, delivered increased volumes following recent range reviews with UK retailers. Sales of Ambrosia benefitted from increased off-shelf execution with retailers and more favourable weather conditions compared to the prior year in the second quarter and COVID-19 related demand in the fourth quarter.
In its Sweet Treats category, branded sales grew 5.6% to £190.9m building on the "excellent progress" in the prior year.
Revenues of Mr Kipling increased by 4% at a group level and to its highest ever annual revenues. The last twelve months have seen Mr Kipling benefitting from further TV advertising, and in the second quarter saw the launch of its new 'Signature' range. Cadbury cake revenues were also strong in FY19/20, increasing by nearly 8%.
However, it international business experienced a "disappointing" year as revenues fell by 19%, despite progress in Australia and the US for Mr Kipling.
Premier said it continues to believe a clear opportunity exists for its brands to grow internationally and has reviewed its strategy to adopting a new approach to deliver a sustainable profitable business.
Premier posted a trading profit of £132.6m during the year, which was £4.1m ahead of the prior year.
The Grocery business was the larger contributor to the progress in divisional contribution, delivering an increase of £9.9m compared to the prior year. Sweet Treats divisional contribution was £0.1m higher in the year at £23.7m as strong revenue performances from Mr Kipling and Cadbury cake due to benefits from the branded growth model were supported by increased consumer marketing investment.
Operating profits jumped by £90.8m to £95.3m in the year, driven by an improved trading performance, the non-repeat of certain non-trading items in the year and lower amortisation of intangible assets.
This led to statutory profit before tax of £53.6m and profit after tax £46.5m, both reversing last year's heavy losses.
Net debt reduced by £61.8m on pre-IFRS 16 basis to £408.1m, while its combined pensions surplus rose to £1.23bn from £373.1m after its strategic review resulted in the combination of its pensions obligations.
CEO Alex Whitehouse commented: "This has been a period of considerable progress for the company.
"We have now grown group revenues, trading profit and adjusted earnings for each of the last three years, driven by our successful branded growth model of delivering insightful new product innovation together with emotionally engaging advertising and building strategic retailer partnerships.
"A good example of the growth model delivering results is our biggest brand Mr Kipling which two years after a major relaunch achieved its highest ever annual sales. Most of our other major brands also grew revenues in the year and sales of Nissin branded products nearly doubled.
"As we look to the coming financial year, we anticipate making further progress, with increased consumer marketing investment planned. Revenues in the first quarter of FY20/21 are expected to be approximately 20% ahead of the same quarter a year ago reflecting continued strong demand for the group's product ranges, particularly in our grocery business.
"Consequently, we expect to exceed current expectations for FY20/21 revenue and trading profit despite incurring some additional operating costs in our supply chain."
Morning update
Naked Wines has posted revenues "marginally" ahead of expectations after a year of significant change with the sale of it Majestic retail arm and refocus on its online business.
Revenue of £203m was up 13.7% year on year, of which the US market grew 20.2%.
The contribution from repeat customers was up 15% to £45.7m, while its investment in new customers rose 20% to £22.9m.
Naked had a sales retention rate of 83% (up 2 percentage points).
It said in the first half of the year, while the US performed strongly, it saw some softness in the UK and Australia.
However, in the second half, it started generating improved momentum, in particular in the UK, before seeing an unprecedented acceleration of the business in the final two weeks of the year as the COVID-19 pandemic precipitated lockdowns in all our markets and the level of demand for wine deliveries surged.
Its adjusted EBIT loss reduced by 50% to £1.4m, while its loss before tax reduced by 46% to £5.4m.
Group CEO Nick Devlin commented: "I'm delighted to report a strong set of results to conclude a year of transition for Naked Wines. We are ending the year with great momentum behind our growth plans and a simplified, well-capitalised online pureplay model that is ideally suited to the current climate.
"Whilst predictions are harder than ever this year, I am excited about our plans for growth and confident that the mission of Naked to connect everyday wine drinkers to the world's best winemakers is more relevant than ever. I believe the enduring impact of COVID-19 will be to accelerate trends towards direct, online models in categories like wine and that Naked is well positioned to deliver the combination of quality, value and community customers are looking for."
Naked said it had displayed resilient operational performance during the coronavirus crisis.
It said it had seen a significant improvement in sales retention and 20 year payback metrics driven by strong second half and COVID acceleration in final weeks of the year, while it saw significantly improved KPIs positively influenced by COVID-19 impact.
"We saw demand increase rapidly to levels typically only seen during peak seasonal trading," Devlin said.
"The crisis has served to demonstrate the resilience and scalability of the core infrastructure of the business, with our teams rapidly reacting to sustain a high-quality customer experience while modifying our operations and supply chain to safeguard the wellbeing of our people."
Naked also said it had made an encouraging start to the year, with 81% revenue growth in the first two months of its new financial year.
It declined to provide full financial guidance due to uncertainty as to how long current trading conditions will persist.
However, its direct to consumer model remains well aligned to shift to buying wine online and its strong balance sheet gives it the flexibility to take a long-term perspective, manage the potential risk of an uncertain environment, and be open to growth opportunities that are emerging.
Meanwhile, Naked announced that James Crawford, currently Chief Financial Officer, is to be appointed Managing Director of Naked Wines' UK business.
He has been managing the UK business (alongside his duties as CFO) on an interim basis since November 2019, when the former MD transitioned to a newly created role as Global Director of Wine.
A full search to identify a successor as CFO has commenced and a further announcement will be made in due course. Crawford will remain on the board as CFO until a successor has been appointed and a full and orderly transition has taken place.
Ahold Delhaize has announced that Jan Hommen will retire as chairman on December 31, 2020.
It has appointed Peter Agnefjäll as the new Chairman effective January 1, 2021. Effective immediately, Peter will serve as Vice Chairman to work with Jan to ensure a smooth transition.
Jan Hommen has served as chairman between 2018 and 2020 and as vice chairman between 2016 and 2018.
Peter Agnefjӓll has been a member of the Supervisory Board since April 2019. He served as president and CEO of the IKEA group from 2013 to 2017. His appointment follows a recruitment and selection process comprising both internal and external candidates.
Jan Hommen said: "Although it is hard to leave Ahold Delhaize, the timely preparation and clarity on transition is particularly important in view of the macro-economic uncertainty in the coming years. Peter has been an outstanding member of the Board since he joined. He has extensive retail experience, leadership and knowledge of omnichannel and e-commerce, and is well positioned to lead the Board in supporting the company to deliver its Leading Together strategy."
Peter Agnefjäll added: "I am honoured and excited to be appointed by the Supervisory Board as its new chairman. I look forward to working with Jan in preparation for the transition by the end of the year."
On the markets this morning, the FTSE 100 has opened 1.5% lower at 6,224.9pts.
Naked Wines and Premier Foods are amongst the day's strong early risers, up 4.2% to 383.5p and 4% to 62p respectively.
Fallers include AG Barr, down 5.1% to 456.5p, Applegreen, down 4.5% to 331.5p and Compass Group, down 2.5% to 1,147.5p.
Yesterday in the City
The FTSE 100 ended the day up 1.3% to 6,328pts as the UK lockdown was scaled back and on hopes the US and China could reach an initial agreement on a trade deal.
After the release of the grocery market share data for the month, Tesco dropped 1% to 230.7p, Sainsbury's fell 1% to 204.6p and Morrisons was down 0.8% to 194p.
Cranswick ended the day up 2.5% to 3,720p after posted a double-digit rise in annual sales and profits yesterday morning.