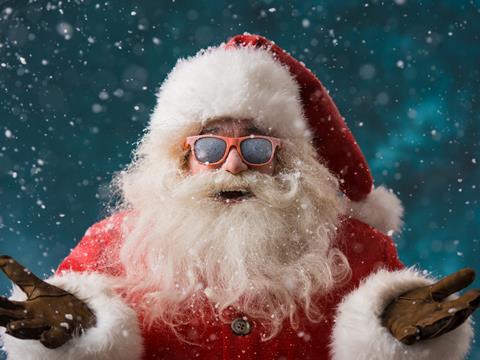 It hasn't happened in recent memory, but in a "quite remarkable" Christmas, all of the major food and drink retailers have come through the crucial trading period in decent fettle.

As the grocers filed their festive figures, it was impossible to pick the clear winners and losers from the stream of positive numbers.

Retail Remedy's Phil Dorrell described Morrisons' like-for-like growth of 2.9% for the nine weeks to 1 January as "quite remarkable", but he could have been talking about any number of cases that exceeded expectations.

All of the big four had good reason for cheer. Tesco reported a 0.7% jump in like-for-likes for the six weeks to 7 January. Sainsbury's enjoyed a record Christmas week with like-for-likes up 0.1% for the 15 weeks to 7 January.

Even Asda, whose sales have gone backwards at an alarming rate for two years, could count itself pleased if the latest Kantar Worldpanel figures for the 12 weeks to 3 January are anything to go by, as it stopped the rot, with sales falling 2.4% compared with a 4.7% fall in the 12 weeks to 4 December.

Morrisons CEO David Potts summed up its success in typically understated fashion.

"We stocked more of what our customers wanted to buy, more tills were open more often, and product availability improved as over half of sales went through our new ordering system. Both like-for-like and total sales grew, which was very encouraging."

There was also plenty of encouragement to be found for the discounters. Aldi was first out of the blocks on Monday as it reported total sales up more than 15% in December, boosted by sales of its expanded range of premium products.

Meanwhile, new Lidl CEO Christian Härtnagel also hailed its "most successful festive period" ever with sales up 10% in December. He attributed the growth to bumper sales of festive vegetables and Prosecco.

He also said its ad campaign highlighting the welfare standards at one of its turkey farms helped drive up turkey sales by 40% on last year.

"It's clear that customers are continuing to be enticed by our resolute commitment to provide them with the best-quality products at the lowest prices, particularly during the festive period," added Härtnagel.

While the discounters enjoyed success from their posher ranges, the premium retailers could also raise a glass or two of bubbly this year.

Waitrose said its like-for-likes were up 2.8% in the six weeks to 31 December, while M&S enjoyed positive like-for-like sales of clothing and food for the first time in recent memory. And the Queen's grocer Fortnum & Mason's like-for-like sales soared 16% in the five weeks to 1 January. Quite remarkable.
How did the retailers fare?
Aldi: Record sales rolled in as shoppers lapped up its premium Prosecco, malbec and roast beef. Year-on-year sales rose 15% in December, with Kantar registering growth of 11.8% and Nielsen 10.4%.
Asda finished bottom of the Christmas pile. However, a 2.4% decline [Kantar] was a considerable improvement on the 4.7% slump reported in December, with Nielsen putting the fall at 1.8%.
B&M: A rush on Christmas crackers and decorations drove shoppers into stores to increase sales 20.7% to £741.4m for the 13 weeks to 24 December, with like-for-like growth of 7.2%.
Co-op: Like-for-likes were up 3.5% in the three weeks to 31 December. Sales growth was 2.4% for the 12 weeks to 1 January [Kantar] and 3.2% in 12 weeks to 31 December [Nielsen].
Iceland: A focus on premium food brought a bumper Christmas. Kantar put growth at 9.6% for the 12 weeks to 1 January - second only to Aldi. Nielsen had Iceland as the third fastest-growing, at 4.7%.
Lidl: Christmas trading was boosted 10%. New CEO Christian Härtnagel said December was its "most successful festive trading period ever". Kantar recorded growth of 7.5%, Nielsen 5.8%.
M&S: A 3.1% rise in clothing & home defied expectations. Food sales rose by 5.6%, with like-for-likes up 0.6%, to take group revenues 5.9% higher in the 13 weeks to 31 December.
Majestic: A 7.5% rise in like-for-like sales in the retail arm left Majestic toasting its best-ever Christmas. Total group sales were up 15.3% in the 10 weeks to 2 January but margins shrank as it lowered prices.
Morrisons: Like-for-like sales in the nine weeks to 1 January rose 2.9%. This was thanks to David Potts' back-to-basics approach, alongside a good showing for fruit & veg, alcohol and the new 'Best' range.
Sainsbury's: A record Christmas week nudged like-for-likes 0.1% higher in the 15 weeks to 7 January. Argos pushed the group figure to 1% thanks to a 4% jump that smashed analyst expectations.
Tesco: Tesco had solid UK like-for-like sales growth of 0.7% over the six weeks to 7 January after a stronger third quarter of growth of 1.8%. Food like-for-likes were up 1.3% over the festive period.
Waitrose and John Lewis both achieved 5% growth over Christmas. Waitrose like-for-likes were up 2.8%, with convenience up 4.8% on a like-for-like basis and Waitrose 1 sales up 21.8%.