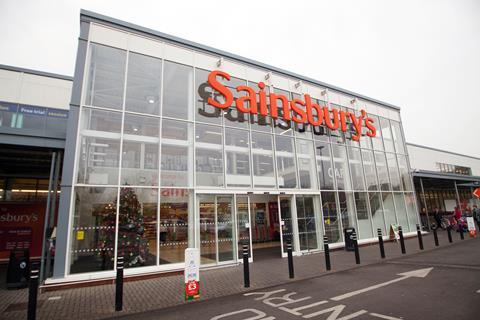 Sainsbury's has performed better than expected over Christmas, beating City predictions, thanks to a rise in grocery sales in the third quarter.
CEO Mike Coupe said the supermarket had "upped our game significantly" over the past six months by becoming more competitive on price and growing its premium Taste the Difference range.
However, Argos suffered a difficult quarter, with the general merchandise division putting in its worst performance since Sainsbury's bought the business four years ago, with sales down 3.9% in the 15 weeks to 4 January 2020.
Sainsbury's revealed it would continue to invest in price across January by cutting some of its most popular produce lines to 60p, including apples, mangos and avocados. And it is holding the price of around 1,200 products most frequently bought by customers for at least eight weeks in its fifth 'price lockdown' event.
Grocery sales in the third quarter grew 0.4%, with online food sales up by 7.3%, while clothing sales increased 4.4% as the cold weather helped the supermarket shift more Christmas jumpers and other winter items.
Total online sales rose 5% in the period, with more than 20% of business, including Argos, originating online in the quarter.
Overall, Sainsbury's posted a 0.7% drop in both like-for-like sales (excluding fuel) and total retail sales (excluding fuel). It is the fifth consecutive quarter of declining like-for-like sales at Sainsbury's, but marked an improvement on the 1.1% drop in the third quarter a year ago.
"We are still in relatively uncertain times and there is nothing on the horizon that looks like it is going to change what has been a challenging consumer environment," Coupe said as he revealed the results.
"If you stand back and look at the macro drivers, the reality is that customers have more money in their pockets than they did this time last year, it is just they are very careful in the way they are spending it and that is reflected in retail sales over Christmas. The food business will continue to be challenged in what is a very competitive market.
"We've upped our game significantly in the last six months by investing in opening price points, by investing in core commodity products and, at the other end of the spectrum, growing our Taste the Difference range [which launched 70 new Christmas products and grew volumes in the quarter]."
Coupe also played down the role of promotions in driving the grocery performance. He added that overall promotional weight was broadly the same year on year, with overall promotional participation in the core grocery business down compared with a year ago.
"If you look at some of the headline big-ticket promotions such as fuel and alcohol, we did a bit more of that this year," Coupe said.
"But, broadly speaking, our actual promotional sales in our food business went down year on year and our prices were better overall and in line with the philosophy of 'everyday low prices'.
"And if you look at the competitive landscape, most of our competitors did more of that activity as well. I don't think there was a significant advantage gained from more fuel stunts or more wine deals, where most of the blood and guts of these things happen. Relative promotional participation in the round was broadly flat year on year.
"The discounters were more promotional, which would suggest that although the headline sales growth looks good, they were obviously fighting harder to maintain that level of growth."
The disappointing performance in the general merchandise arm and Argos resulted from a decline in the overall toys and gaming market generally, where Argos is a market leader and overtrades, Coupe said. He added it was "a relatively good quarter" in consumer electronics for Argos, with market share growing.
Coupe said he had no regrets over the acquisition of Argos. "We are actually pleased with the performance, which sounds like a slightly perverse thing to say, but if you look at investments we made with stores in stores, the growth in digital, the growth in Fast Track then we are really pleased with the proposition. It just happens that, in this quarter, there were a couple of markets under pressure and these were markets we tend to overtrade in, but we will continue to join our digital businesses together."
He added that Argos delivered its biggest-ever digital channel trading day on Black Friday, with 12 orders per second in the peak hour.
"We describe Christmas as 'Twin Peaks'," Coupe said. "Black Friday and the last weekend in November was extremely strong and Christmas week itself was extremely strong. The bit in the middle was a little more challenged."
Shore Capital analyst said Sainsbury's had "ground out a decent grocery trading performance" in a challenging market. "Sainsbury is toughing it out more effectively, which may make commercial life a little more challenging year on year for Tesco in particular," he added.