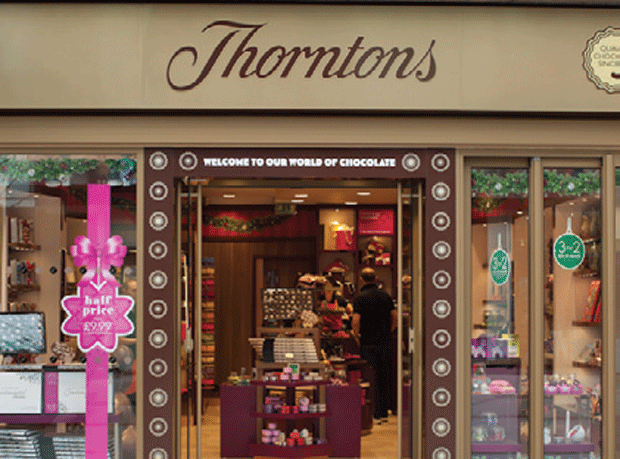 Shares in UK-listed chocolatier Thorntons have rocketed up 43% after news broke this morning that Italian chocolate manufacturer Ferrero has agreed to pay 145p a share to buy UK-listed chocolatier Thorntons, valuing the company at £112m.
The acquisition price represents a significant 42.9% premium on the group's closing share price of 101.5p on Friday. Thorntons shares have jumped up to 145p this morning on the news.
Ferholding UK – a wholly-owned subsidiary of Ferrero – announced this morning acquired stakes from activist fund Crystal Amber and investor John von Spreckelsen and part of the holding of Hotchkis & Wiley at the offer price. It has also bought shares held by Thorntons directors, including chairman Paul Wilkinson and outgoing CEO Jonathan Hart.
It gives Ferrero a 29.9% stake in Thorntons and Ferrero has also received "irrevocable undertakings" of the acceptance of the sale of another 4.46%, taking its nominal shareholding to 34.36% ahead of the offer being put to the rest of Thorntons' shareholders.
Thorntons has struggled in recent years, overburdened by a large store estate, leading it to attempt a transformation from a retail-based firm to an fmcg supplier primarily selling branded chocolates through other retailers and supermarkets.
However, UK commercial sales have collapsed in the past year due to significantly lower volumes at two unnamed UK supermarkets, sending Thorntons' share price tumbling and led to the departure of former CEO Jonathan Hart in May.
Thorntons reported a 10% fall in first half pre-tax profit for the six months to 10 January, dropping to £6.5m from £7.2m in the same period last year. The fall was driven by an 11.2% fall in fmcg sales including a 12.4% fall in UK commercial sales thanks to issues with two grocers.
Total revenues were 8.2% down year-on-year to £128.2m in the first half. Its retail division saw 2.2% like-for-like growth, but total revenues fell from £69.1m to £65.5m during the period at it continues to close stores.
The weak UK commercial sales saw Thorntons' share price halve from December to February, hitting a low of 62p on 26 February. The shares have since rallied, opening at 102.3p this morning.
"Ferrero is offering our shareholders an attractive premium to the average price of Thorntons' shares over the last three months," Thorntons chairman Paul Wilkinson said.
"Although the prospects for Thorntons as an independent company remain strong as we embark on the next phase of its strategy, the board also recognises the potential benefits to the brand and the business, including employees and all stakeholders from combining with the Ferrero Group."
He added that the board had voted unanimously in favour of the offer from Ferrero.
Ferrero CEO Giovanni Ferrero said: "This transactions brings together two highly complementary businesses, but more importantly it unites two companies that share the same passion for growing brands, and a proud heritage, drive and culture built upon their family foundations.
"We have long admired Thortons and what they have achieved in the UK as demonstrated by their tremendous customer loyalty, and we look forward to working with their experienced team."
Share Price:
145.00p Change Today: 43.50p Market Cap: £99.95m