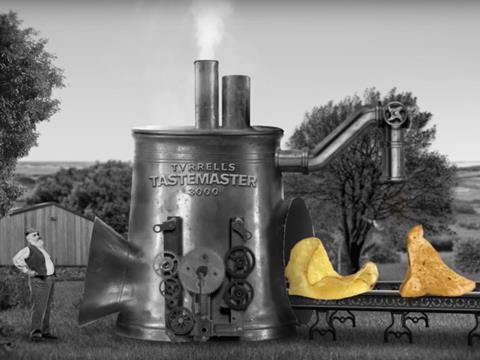 The addition of Tyrrells and Popchips to KP Snacks' portfolio of brands has helped boost sales by more than 25% at the Intersnack-owned producer of bagged crisps and nuts.
KP, which bought premium crisps brand Tyrrells in May 2018 and better-for-you brand Popchips in July of the same year, saw revenues in 2019 rise 25.8% from £377.1m in 2018 to £474.2m in 2019.
The group also said it saw a rise in volume sales of existing brands to offset a decline in private-label business, where it chose to exit non-strategic and lower-margin contracts.
That exit from less profitable business helped operating profits rise from £24.8m to £34m during the year, while pre-tax profits were up 44% to £25.4m from £17.6m.
Gross margins increased to 44.7% from 43.5% due to changes in sales mix, the increase of branded sales, price increase and cost savings from major capital investments to mitigate the impact of rising commodities.
"In 2019 KP Snacks has had another really successful year, leading the growth in the crisps, snacks, popcorn and nuts category, both through innovation and significant investments behind our core brands to help support our customers' strategies," a KP Snacks spokesman commented.
"This investment led branded growth, integration of our recent acquisitions and the exiting of some low-margin own-label business has led to a margin improvement. In addition we have committed to some major capital expenditure to deliver packaging reductions, cost savings and protect ourselves from Brexit supply risks."
KP said the outbreak of coronavirus had led to "changing demand" from consumers, but that it has seen a limited impact on its supply of labour and raw materials, meaning it has remained profitable and cash-generative throughout the period.
The spokesman added: "2020 however saw challenging conditions due to Covid, with the significant decline of on-the-go consumption and switch to in-home, the costs and resources to protect the safety and welfare of our colleagues who have done a fantastic job in maintaining supply and service levels, and also the preparations for Brexit.
"We are continuing to navigate through all of this disruption to ensure we are able to continue our position as the key sustainable category growth partner for our customers."
In particular, the company said its premium Tyrrells brand had had a strong lockdown, with its core sharing crisps range up by 14.2% in 2020 after invesetment in product quality, marketing and distribution.
This growth, it said, makes it faster-growing than the sharing segment, the fastest growth of the market's premium sharing brands, and up 29% in the key December period.
Similarly, the Tyrrells vegetable sharing crisps range has grown 52% in 2020 having also benefited from quality improvements, NPD, advertising, execution and distribution gains.
KP said it had further Tyrrells brand NPD coming to market in 2021 "to further drive mainstream premium snacking".