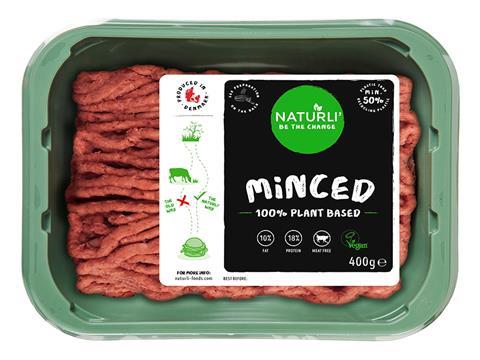 Sainsbury's is to start stocking meat alternative products alongside meat at 400 of its stores.

Starting next month, Sainsbury's customers will find vegan meat alternatives alongside meat products, as opposed to in their own dedicated sections.

Two such alternatives will be the supermarket's 'bleeding' mushroom burger and beef mince alternative, available from 27 June.

Although the burgers, from Danish plant-based food manufacturer Naturli' Foods, are not designed to taste like meat, they will give customers underlying 'meatiness.' The umami flavour of the burgers comes from its blend of almonds, tomatoes and porcini mushrooms, as well as beetroot to help recreate the colour of raw, medium and well-done meat as it cooks and add meat 'juice' when eaten.
Naturli' Foods said it has been struggling to keep up with customer demand for the burger since it launched in Denmark in January. It expects similar regard for its Minced mince alternative product, anticipating sales of half a million packs in the UK over the next year.

Minced's packaging is also environmentally friendly as it is made from at least 50% recycled plastic.

Sainsbury's is aiming to target vegans, vegetarians and meat eaters looking to cut down on their meat consumption through this initiative.

Sales of the supermarket's current meat alternative products is increasing by 20% each week.

"We're always exploring new ways to offer even greater choice, quality and value and our new Naturli' mince and burgers are a brilliant example," said Sainsbury's meat-free and ready meals buyer James Hamilton. "These are our most authentic meat alternatives yet, and for this reason we plan to stock them with our mince and burgers. We're looking forward to hearing what our customers think when the products launch."
Naturli' Foods CEO Henrik Lund added: "We've developed this product assuming that many people want to eat plants instead of animals, but are afraid of compromising on flavour and maybe even missing out on their favourite dishes such as lasagne or burger patties."

This trial comes just as Waitrose became the UK's first supermarket to launch a dedicated vegan section in 125 of its stores.
News of Sainsbury's vegan merchandising trial was first reported by the Guardian.