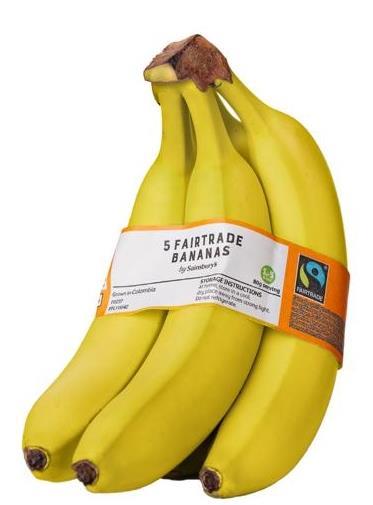 Sainsbury's is ditching the plastic packaging on its five-pack Fairtrade bananas from next week.
The move, which will see the grocer replace the plastic bag with a paper band, is rolling out to all stores from 22 May.
It will result in the removal of 25 million single-use plastic bags, which equates to 75 tonnes of plastic, Sainsbury's said.
In addition to replacing the banana packaging, Sainsbury's will be rolling out further plastic reductions across its ranges in the coming months. It includes removing plastic lids from all of its salads and coleslaw ranges and moving all of its nut butter packaging to glass this month, as well as switching its double-strength squash bottles to quadruple-strength squash bottles next month.
From June, Sainsbury's will also be reducing the use of plastic film in its grated cheese lines and across its dessert cheesecake ranges.
It comes as supermarkets have agreed to scrap packaging on loose fruit and veg within three years to tackle plastic usage.
A Wrap report from earlier this year claimed a "staggering" 100,000 tonnes of food waste could be prevented by removing packaging from the top five most wasted fresh fruit and veg products.
The group said as much as 80% of all packaging on fresh fruit and veg could be removed by 2025.
Retailers are now scrambling to reduce their virgin plastic consumption as part of the UK Plastics Pact, as well as to meet their own net zero commitments.
The government's plastic packaging tax, which came into force last month, is aimed at encouraging businesses to use more recycled plastic.
It applies a £200 per tonne levy on all plastic packaging manufactured in, or imported into, the UK that contains less than 30% recycled plastic.