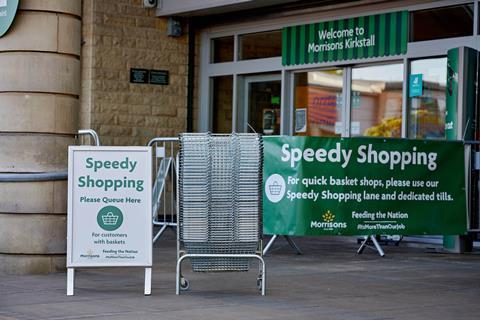 CEO David Potts said convenience and food-to-go sales had been severely affected by the crisis

The system would allow food-to-go customers to bypass supermarket queues
Morrisons is to launch a new "speedy shopper" system to allow food-to-go customers to bypass the coronavirus queues as the nation starts to come out of lockdown.

CEO David Potts announced the move today after admitting convenience and food-to-go sales had been severely affected by the crisis, despite a big boom in grocery sales.

Potts said the supermarket had been looking at ways shoppers buying only a few items in a basket could be helped to "get through the self-service checkouts fast" without being stuck in long queues.

He added the scheme would be "like a speedy boarding card" used by airlines.

The announcement came after Morrisons reported a 5.7% rise in group like-for-like sales in its latest quarter, with sales boosted by customers stockpiling and switching to big weekly or even monthly shops.

However, Potts said despite the positive impact from the crisis, Morrisons had taken a big hit on items such as food to go, including its £3 meal deal, which he said he expected to "tick up as things go forward".

Like other retailers, Morrisons said it had been forced to temporarily close its food-to-go counters because of the outbreak.

It also brought in other temporary measures include closing every second checkout to help with social distancing.

In recent weeks, it said it had returned to normal trading hours, introduced more protective screens to enable all checkouts to open safely at the same time, and availability has continued to improve.

Potts said it was now planning for the next phase of the crisis, after Boris Johnson yesterday revealed more details of plans to ease the lockdown measures, which will see more people return to work and increase demand once again for food-to-go operations.