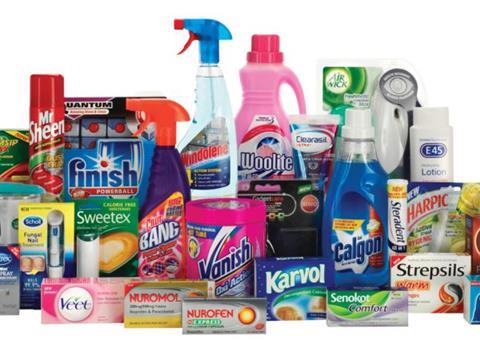 Broker Credit Suisse has downgraded global fmcg giants Reckitt Benckiser (RB) and Kraft Heinz (KHC) amid concerns a lack of product innovation and foreseeable sales growth will eat into earnings.
The bank cut its price target for Us-listed Kraft Heinz from US$77 to $55 yesterday and cut its rating to underperform from outperform.
It followed that action today by similarly downgrading Reckitt to underperform and cutting its price target from 6,300p to 5,550p.
On Reckitt, the broker argued that analysis of its top-line growth over the last two years suggests RB has pursued a strategy where sales volume are being offset by higher selling prices.
Credit Suisse warns: "We are particularly concerned about RB's OTC consumer health business, noting fewer science-based innovations and increased pressure from generics. Perhaps as a consequence of a relatively low R&D spend, the pipeline of new products to which RB can apply its proven marketing skills appears to be drying up.
"Our analysis suggests that RB will be forced to reset pricing/increase investment to restore competitiveness and revive volume growth in developed markets."
It said the boost from a severe flu season in the first quarter should provide temporary solace for the Strepsils and Nurofen maker, but it now expects developed market sales to contract this year (with pricing going negative) and a 100bp reduction in the company's underlying margins over the two years to the end of its 2019 financial year.
"We expect management to guide margin expectations lower as we go through the year," the bank concluded.
The logic behind the downgrade seems to ape the motivation behind its similar downgrade to Kraft Heinz yesterday.
Credit Suisse called into question the management culture of Kraft Heinz owner 3G Capital – which has drastically cut costs to drive margin growth – and its ability to innovate and achieve sales growth.
The broker explained: "We harbour serious doubts about the management team's ability to generate sufficient product innovation to grow its collection of 'retro' brands in highly commoditized categories."
"Without sufficient innovation, the Kraft brands tend to lose their ability to maintain a premium price to private label."
As well as predicting its key brands will come under pricing pressure, the broker argued deal-hungry 3G Capital may struggle to acquire further growth after merging Heinz with Kraft Foods.
"The lack of approachable targets… and the narrow range of options that the board is willing to pursue imply a smaller value for the optionality."
Kraft Heinz responded to the broker note, by stating: "Our strategy is built for profitable growth. We've established clear priorities to grow our brands through focused investments that leverage our innovation capabilities, global reach and consumer-first approach.
"Our combination of iconic brands and global platforms puts us in a great position to drive profitable growth in markets around the world."
Kraft Heinz' shares rose 0.4% to US$61.19 yesterday, but are down around 20% over the past six months.
Reckitt Benckiser shares fell 3.6% to 5,784p in morning trading today. RB shares are also down by around 20% over the last six months.