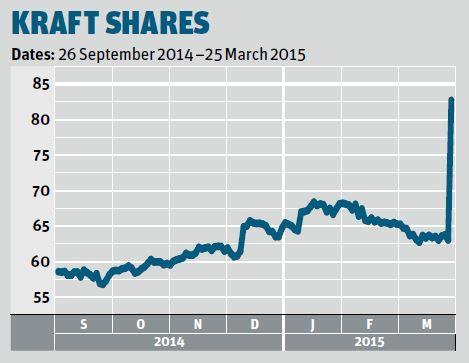 One group seemingly instantly won over by the Kraft/Heinz mega-merger were Kraft investors - the US company's shares jumped more than a third on the news.

Kraft shares closed 35.6% up on Wednesday at an all-time share price high of $83.15 as the market gave the $40bn deal an emphatic thumbs-up. The mood of Kraft shareholders wouldn't have been hurt by the $10bn "special dividend" Heinz owners 3G Capital and Berkshire Hathaway will pay out as part of the deal.

Analyst reception to the announcement was also largely positive, but tempered with a significant amount of caution by the fact Heinz and Kraft are both seeing negative sales growth.

JP Morgan analysts said: "The 3G model seems to be to cut costs as much as possible and add back resources only when and where necessary. For companies such as Kraft, which were built for revenue growth that probably no longer exists, 3G may be an ideal manager." Neil Saunders, MD of Conlumino, said the tie-up was "one of convenience". "As much as the merger will provide opportunities, not least to enhance short-term earnings for investors, it is not a magic wand," he said.

The announcement the deal had been agreed, subject to the usual approvals, had a knock-on effect on SABMiller, which had previously been touted as a potential target for a 3G takeover.

SAB's shares have risen by over 20% over the past year on rumours 3G Capital-backed AB InBev or 3G itself was preparing to swoop. However, the UK-listed brewer's shares fell by 3.1% over Wednesday and Thursday to 3,554p as a deal looks less likely. Analysts at RBC Capital Markets explained: "We would expect those Brazilian investors to extract as much cash as they can from InBev in order to help finance the Kraft bid."

Meanwhile, shares at Hilton Food Group were 3.7% up by Thursday lunchtime after it announced on Wednesday that sales for the year to 28 December fell by 2.3% to £1.1bn despite rising volumes as the company was hit by unfavourable exchange rates and falling prices.