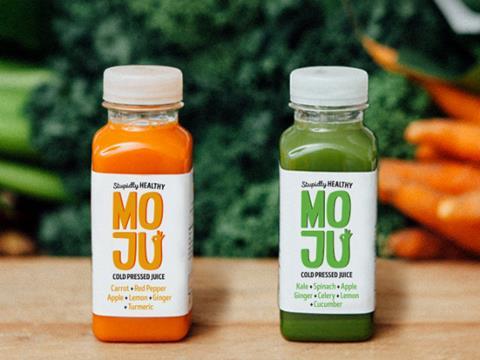 Veggie juice start-up Moju has secured its first major supermarket listing as part of the food-to-go offering in Waitrose.
Two of the 250ml juices – Daily Greens and Kick Ass Carrot (rsp: £2.49/250ml) – are being stocked by more than 70 Waitrose stores nationwide in the food-to-go fridges.
It follows on from a year of rapid growth in 2016 for the East London-headquartered brand, which makes a three-strong range of cold-pressed, high-pressure processed juices.
Building on Moju's release of two cold-pressed and HPP ginger and turmeric shots late last year, the listing represented "a significant step" for the brand, co-founder Rich Goldsmith said.
"Moju has grown rapidly over the past two years, supported by increased consumer demand for fresher tasting grab-and-go products with genuinely healthy credentials," he added.
"The Waitrose listing demonstrates a big step forward for Moju and the wider HPP drinks category, as the traditional heavily processed and unhealthy brands that have been the mainstay of the supermarket shelves aren't improving their offering quickly enough.
"2017 is will be another year of significant further growth for Moju, with other large listings and new exciting additions to our product line up yet to be announced."
Waitrose drinks buyer Roxanne Bennett said: "The rise in popularity of vegetable-based drinks shows no sign of slowing so we know our shoppers will love their juices made with fresh ingredients."
Moju was launched by Charlie Leet-Cook and Rich Goldsmith in 2015 and is now stocked in more than 600 stores in the UK, including listings with Whole Foods, Planet Organic and As Nature Intended, as well as catering giant Compass, Curzon Cinemas and hundreds of independent delis, speciality coffee shops and health food stores.