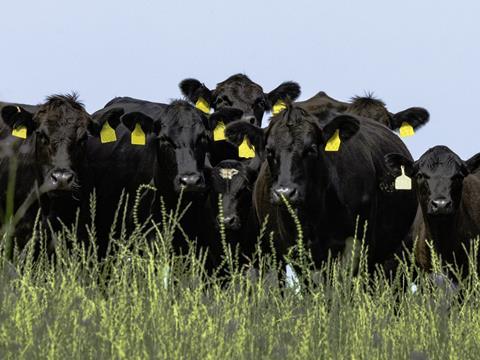 Supermarkets and suppliers are ramping up traceability efforts in the wake of yet more scandals in the meat sector, but Brits still care more about quality, price and animal welfare, exclusive new research suggests.

The Aberdeen-Angus Cattle Society this week announced a big push to get producers to sign up to its Sire Verified Angus scheme, while M&S is running a campaign highlighting the fact it's the only retailer that can trace all its beef back to individual beasts thanks to its DNA testing scheme.

But while two-thirds (65%) of consumers consider traceability important, only 7% would be influenced by it when buying meat, according to a survey of over 2,000 Brits by Harris Interactive for The Grocer.

So is DNA testing a waste of money? And does traceability have any influence on where people buy their meat?
Twenty-nine per cent of consumers in our survey say meat traceability is "very important" and 36% "slightly important". But that concern isn't influencing shopping habits, with traceability "only the 10th most important factor for consumers when buying meat", says Lucia Juliano, research sector head at Harris Interactive UK.
"Quality (52%), price (39%) and value for money (33%) are, unsurprisingly, still considered the most important factors when buying meat," she says. Consumers are also more likely to think about British provenance (20%), welfare (17%) and whether the meat was free-range (10%).

While traceability isn't a standout factor, however, it does increasingly feed into perception of quality, suggests AHDB head of retail and foodservice engagement Matt Southam.

"Quality means so many things to different people, but we are seeing traceability appear more as part of it," he adds. "Sometimes that is just around actual provenance, rather than the granular detail tracking back to the individual animal."
Traceability expectations
Indeed, our research suggests most consumers have relatively simple requirements when it comes to how retailers should demonstrate traceability. "Almost half (46%) believe the retailer should know which farm the meat came from, whilst just under a third (32%) would want the retailer to know exactly which animal the meat came from," says Juliano. Just 5% of those surveyed would expect a retailer to conduct DNA tests on meat.

It doesn't mean M&S has wasted its money, though. "It all plays into its wider strategy of positioning itself as the most premium retailer," says Southam. "In that search for differentiation, particularly at the premium tier, things like that do look good to consumers."
The M&S campaign is certainly sticking in people's minds. Of the 17% of respondents that had seen advertising about meat traceability in supermarkets, 44% said they had seen it for M&S, followed by Tesco and Aldi (both 16%).

M&S also topped the table when consumers were asked to score supermarkets on who had the best traceability, with 13% of the vote ahead of Tesco (8%) and Waitrose (7%).

And it was also deemed as one of the best supermarkets to buy meat overall, scoring 12% of the vote for joint first place. Which suggests traceability advertising causes "a clear drive in consumers to buy from that retailer" says Juliano.

Joint top was Tesco. "This seems surprising given the relative difference between these two retailers' brand propositions and market share but - given so many people shop at Tesco - it is maybe unsurprising they believe the meat they buy is the best," says Juliano.
Surprise for Morrisons
A bigger surprise, perhaps was the fact that Morrisons, the only big four mult to escape unscathed from Horsegate thanks to its fully integrated supply chain, scored just 9% of the vote, as did Sainsbury's, Waitrose and Asda.

"Morrisons has probably the best supply chain story going, but the consumer awareness of that is really low," says Southam. "You rarely see them shouting about that in any national advertising - it's a bit of a missed trick really."
Of course, consumer perception isn't the only reason to invest in DNA testing and integrated supply chains. The horsemeat scandal had a huge impact on the retail sector, and better traceability reduces the likelihood of supermarkets ­getting caught out again.
What's more, with focus mounting on the meat sector and growing awareness of different production systems, traceability is set to become increasingly important to consumers. And while shoppers aren't currently demanding the sort of granular information DNA testing could provide, the M&S campaign could well change that, says Southam. "They might look at it and ask 'why isn't my supermarket doing the same?'," he adds.

Which is why he expects more retailers to introduce DNA traceability on meat over the next five to 10 years, even if consumers are currently more hung up on quality and price.
What matters: traceability take-outs
Quality (52%) is most important to meat shoppers, followed by price (39%) and value for money (33%). Just 7% say traceability is a key concern.
Provenance was an important factor for 20% of shoppers. More than twice as many over-55s worried about it (29%) than 18 to 24 year-olds (11%).
Traceability means different things for different consumers - with most (46%) stating it means the retailer knows which farm the meat came from. Thirty-two per cent said it should know exactly what animal the meat comes from and 31% said it should just know the country.
Only 12% would expect a retailer to always buy meat from the same farms and suppliers and just 5% expected them to conduct DNA tests on meat.
Almost a quarter of shoppers (24%) said traceability was becoming increasingly important, rising to 31% of over-55s. However, 17% said they wouldn't pay more for it.