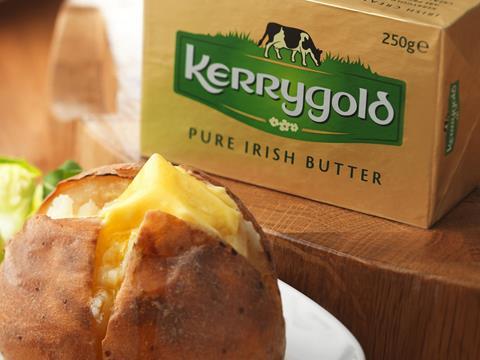 Irish agrifood exports hit their highest levels in Bord Bia's 25-year history last year, jumping 5% on 2018 levels and capping a decade of "extraordinary growth".
Total exports rose from €13.6bn to €14.3bn in 2019, according to latest figures from Bord Bia. This contributed to a 67% increase in agrifood exports compared with 2010 levels – equivalent to an additional €5.6bn in sales.
Food and drink made up the lion's share of Ireland's export growth, climbing from €12.1bn in 2018 to €13bn last year.
And amid continuing uncertainty over the UK's future relationship with the EU, Irish suppliers had successfully diversified their food and drink exports, said Bord Bia CEO Tara McCarthy.
This was reflected in a 1% volume increase in exports to EU markets and a 2% increase in sales to the rest of the world, compared with a 3% drop in exports to the UK – despite total exports to the UK growing by 10% to €4bn.
This gave the EU an Irish food and drink export market share of 35%, compared with a share of 34% for the UK and 31% for the rest of the world.
2019 had been "a watershed year" for Ireland's food and drink industry, not only in the total value of exports achieved but also in the make-up of their destination, said McCarthy.
"For the first time, export levels to Continental Europe exceeded exports to the UK. This result gives further impetus to the market prioritisation work undertaken by industry, the Department for Agriculture, Food and the Marine and Bord Bia over recent years," she added.
Dairy exports rise
Dairy maintained its position as "a pillar of Irish food and drink exports", Bord Bia said, with exports from Ireland's dairy sector growing in value by 11% in 2019 to €4.4bn. Despite weakening commodity prices, particularly in key categories like butter, this represented the third consecutive year in which the value of exports exceeded €4bn.
Reaching a value of €1.2bn, butter remained the category leader in 2019. Increasing diversification proved fruitful for Irish cheese exporters, with an overall increase of 22% in exports derived from strong performance in Continental Europe, as well as in the UK – which remained Ireland's primary market for cheese exports.
2019 was a mixed year for meat and livestock exports, which total sales down 1% to €3.9bn. This was driven by a challenging year for beef and sheepmeat. However, there was a very strong category performance across both poultry and pigmeat in particular, which approached €1bn for the first time on the back of soaring demand caused by the African swine fever pandemic.
Other highlights included a 4% growth in horticulture exports to €104m, despite another challenging year for mushroom producers – who account for over 42% of all Irish horticulture exports. Currency volatility, cost increases and uncertainty in the UK consumer market – the destination for almost all Irish mushroom exports – resulted in continued consolidation in the sector, Bord Bia said.
Elsewhere, exports of prepared consumer foods increased by 2% to €2.7bn, with the UK accounting for 67% of these exports.
While the world economy was gearing towards a slowdown, shifts in consumer preferences in developing economies towards dairy and animal proteins provided reasons for "cautious optimism Irish food and drink exports can sustain its path of growth in 2020", Bord Bia added.
In the important UK market, this would be contingent on 2020 delivering a "firm step forward" in the Brexit debate, it said.
"The UK is and will continue to be the most important market for Irish beef exports, accounting to over 47% of Irish beef imports in 2019," said Bord Bia GB meat specialist Emmet Doyle.
"This is thanks to a long-standing trading relationship between the UK and Ireland, built on the highest standards in supply chain, transparency and service levels. There are many challenges for the wider beef industry in the UK, but we remain committed to supplying the UK retail and foodservice industries with quality, grass-fed Irish beef, as well as supporting our customers with leading consumer insight and research."