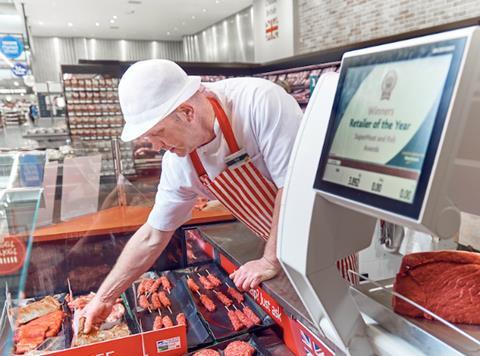 Morrisons has become the first of the big four supermarkets to commit to 100% British fresh meat after vowing to stop selling imported lamb.

The retailer faced criticism from farming leaders earlier this year when it emerged it was selling Australian and New Zealand lamb legs under its Market Deals brand, despite its high-profile promise to source 100% British fresh lamb for its Morrisons own-brand offering.

However, the retailer has today (13 July) pledged to stop selling the imported lamb, which was "previously stocked during the winter and early spring months", and will switch to 100% British across its fresh lamb offer - including Market Deals.

It means the retailer is now selling only British fresh beef, pork, lamb, chicken & turkey in brands that are exclusive to Morrisons - making it the first of the big four to switch to 100% British fresh meat.

Morrisons claimed this commitment - part of its wider programme to sell more British food - was only possible due to its integrated supply chain, which meant "the vast majority" of its meat came from its own abattoirs and processing sites.

"Customers tell us that they want more homegrown food and we are listening. We have always been committed to selling British meat and today we are taking this a stage further by making a clear pledge that if you buy fresh meat at Morrisons it will be British."

NFU deputy president Minette Batters said she was "extremely pleased" that Morrisons - long a strong supporter of the British livestock industry - had chosen to "fully back" the nation's sheep producers.

"This move will certainly make it easier for shoppers who want to buy British lamb in store but have previously been confused by the Market Deals labels," she added.

Morrisons purchases about 750,000 lambs a year, and its decision to switch to 100% British would provide "a very welcome boost for the UK sheep sector at a time when our future trading relationships is uncertain," said NFU livestock board chairman Charles Sercombe.

None of the other big four supermarkets have committed to sourcing 100% British fresh meat, with Asda, Sainsbury's and Tesco all currently selling imported lamb. However, Aldi has already committed to selling 100% British fresh beef, lamb, poultry and pork, and the Co-op became the only supermarket to axe all non-British fresh meat - including bacon and sausages - in May.