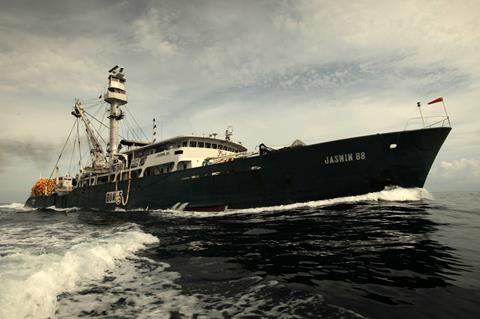 The Marine Stewardship Council has defended the integrity of its certification standards after claims it has been "duping" consumers by allowing crews in the Western & Central Pacific fishery to catch tuna to both MSC-certified and non-certified standards.

The accusations came from campaign group On the Hook (OTH), which launched on 31 August to try and prevent the re-certification of the Parties to the Nauru Agreement (PNA) fishery in the Western Pacific, which is "due in the coming weeks", according to OTH. It is the world's largest sustainable tuna purse seine fishery.

OTH said fishing vessels used the same gear to catch tuna sustainably, but on the same trip would also haul turtles, sharks, juvenile tuna and other protected species unsustainably. It claimed the total annual PNA MSC certified catch was 790,000 tonnes - which is only half the total catches for the area.

However, MSC said claims it was "duping" consumers were "misleading and false" after a report by The Guardian last week suggested consumers of tuna from the PNA were being "betrayed" over its sustainability.
The MSC admitted that boats did catch both certified and non-certified fish, but only in two circumstances: when vessels fish in two management areas where one area is certified and the other is not, and when vessels have two or more different practices on the same trip where one meets MSC standards and the other does not.

It said its "strict" chain of custody requirements ensured that certified and non-certified fish were clearly segregated. These included separating the fish in different wells, on-board observers, at-port inspections, satellite tracking, volume reconciliation and digital tracking, according to the MSC.

"It should be noted that just because a catch is not certified it does not mean that it's not sustainable - it may be that it just hasn't been assessed to the MSC standard," said a spokeswoman for the MSC.
Loophole
But this loophole has been described as an "illusion of sustainability" by Claire Nouvian, president of ocean conservation NGO Bloom.

"MSC has become a monopoly for sustainable fishing certification and is completely abusing its position," claimed Nouvian. "The recertification of PNA poses a risk to the credibility of the MSC. The MSC is only confirming that it has gone from being a force for good to being part of the problem in our oceans."
The OTH also has the support of Hugh Fearnley-Whitingstall, Zac Goldsmith MP and Kerry McCarthy MP.

However, PNA marketing company Pacifical criticised OTH and the campaign, saying it had "never involved itself in any constructive dialogue with the PNA".

"All major retailers, brands and NGOs that play an important role in the tuna business have decided not to support the On the Hook coalition," said Pacifical's CEO Henk Brus.

"We invite On the Hook to come with constructive proposals on sustainably managed tuna fisheries and how they would create real change, and stimulate fishermen around the world to switch from destructive fishing techniques to sustainable methods."