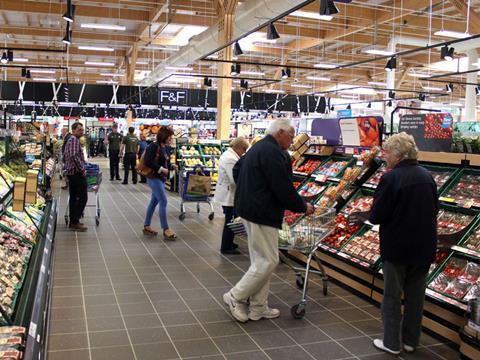 Tesco has committed to give UK produce growers greater support by becoming the first of the big four to sign up to the NFU's Fruit & Veg Pledge.

The retailer joins Lidl, Aldi, and the Co-op in signing up to the pledge - which is designed to cultivate better relationships between retailers, intermediaries and growers.

In addition to reaffirming its commitment to reduce waste in the fruit & veg supply chain, Tesco has also promised to treat all suppliers fairly, build long-term relationships with UK growers and offer production programmes as far in advance as possible of the crop being required.

It has also committed, when in season, to increasing the proportion of British fruit & veg in store, and to offer greater price certainty to growers, pay all suppliers on time in full, and seek to plan promotional activity in advance with growers.

"We're proud to celebrate our partnerships with British farmers and growers by signing the NFU's Fruit & Veg Pledge, which highlights both our commitment to British agriculture and healthy products," said Tesco chief product officer Jason Tarry.

"British farmers and growers produce fantastic quality food and we believe if we invest in them for the long-term, our customers will enjoy better quality, affordable food, today and tomorrow."

The move was welcomed by NFU president Meurig Raymond, who said Tesco's suppliers of fruit & veg would be in a stronger position to invest, plan for the future, boost productivity and compete in a global marketplace.

"By signing up to the pledge, Tesco is telling suppliers it has started the journey of delivering ever-higher standards of business integrity, which we are very proud of," Raymond added.

"With surveys showing that 90% of the public think farming is important to the UK economy and that 89% think it is important to have a productive farming industry, it is timely for Tesco to publicly show their support for British farmers."

The announcement came on the same day as Tesco and a host of other retailers made a commitment to increasing fruit & veg consumption at the Peas Please Veg Summit in London.

"Signing the Peas Please pledge also underlines our commitment to help our customers make healthier choices by making it easier to eat more vegetables, which in turn helps support our British farmers and growers too," Tarry added.