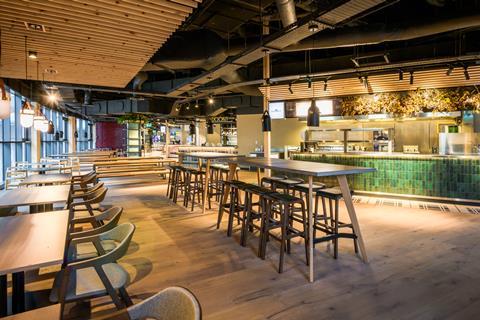 Edinburgh food hall Bonnie & Wild has opened for business, offering 'the best of Scotland's larder'.
With a focus on responsibly sourced quality Scottish food, the operation features eight independent food stalls, four speciality retailers, three bars and an events space. A demonstration kitchen will give visitors the chance to see food being prepared.
The four retailers are:
Inverarity Morton: A boutique bottleshop that is the first retail venture for wine and spirits wholesalers Inverarity Morton. It features a diverse range of wines and spirits, many of which will also be served at Bonnie & Wild's bars.
Broken Clock: Glasgow's Broken Clock café & patisserie is making its Edinburgh debut at Bonnie & Wild. Alongside teas and coffees, Anna Medjanskaja and Artem Podburtnoi will be offering seasonal artisanal patisseries and cakes made from fresh, locally sourced ingredients.
The Cheese Club: Following success with a pop-up shop in Glasgow, The Cheese Club is opening a store offering artisan cheese alongside chutneys, crackers, olives, cured meats and other delicatessen.
MacDuff 1890: A family butchery business with a history that spans four generations and more than 130 years, MacDuff is a leading supplier of Scotch beef. The business's produce is used in top kitchens including The Gannet, L'Escargot Bleu, and Cafe St Honore.
"A wholesaler since 1890, we are opening our very first butcher shop," said MacDuff 1890 MD Andrew Duff. "We look forward to continuing to work with the fantastic Bonnie & Wild team, and continuing relationships we already have with our fellow concessions."
All those involved in the food hall shared a common purpose, said Bonnie & Wild operations head Ryan Barrie. "All of us care passionately about promoting and supporting the Scottish food and drink industry.
"It's easy for us in Scotland to overlook the fact we have some of the best food and drink in the world, and that it is sought after by chefs the world over."
Bonnie & Wild is located in the city's St James Quarter, a 1.7 million sq ft development that will also include 85 stores, a cinema, bowling and gaming venue, two hotels, 152 apartments and nine event spaces.