Booths has opened a new café concept, as part of plans for hospitality to play a much more central part in its business model.
Café 1847 opened at the grocer's Hesketh Bank store in Lancashire on 26 May.
Named after the date that the company was founded as a coffee and tea merchant in Blackpool, the new concept has been designed to "champion the best of Booths".
It will serve a selection of seasonal and locally sourced products, many of which are already sold on Booths shelves. It includes a selection of cooked breakfasts, cakes by The Harrogate Cake Co and Studio Bakery, as well as sandwiches.
A spokeswoman for the company said the grocer would look to roll it out across its 27-store footprint, as it aimed for hospitality to become an increasingly important focus for the business.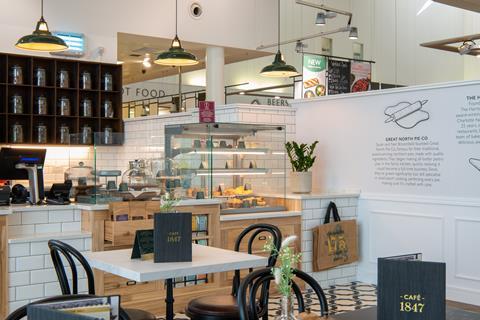 "Café 1847 is a complete revamp of how we run our cafés, the new space is warm and welcoming, and we want customers to feel special the moment they arrive," said store manager Jenni Stancombe. "We reviewed and redesigned every aspect of our offer to create a café experience fitting for Booths that paid homage to our beginnings as tea and coffee merchants."
Café staff have undergone "extensive training programmes" as well as hospitality skills workshops to prepare for the opening, Stancombe said.
"We roast and blend our own coffee and tea in house, bringing 175 years of passion and expertise to your cup," she added. "This is the perfect chance to celebrate what we do best with our customers and tell our story."
The majority of Booths stores, which are located across Lancashire, Cheshire, Yorkshire and Cumbria, have cafés.
The grocer, which is often described as the 'Waitrose of the north' is known for its rigorous sourcing standards, and commitment to British-only meat.