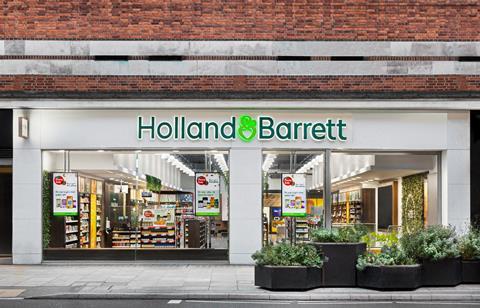 Holland & Barrett has begun stocking a range of branded medicines as it explores new ways to widen its customer appeal.
The retailer has traditionally stocked a wide range of specialist health and wellness products, including vitamins, supplements and more recently speciality diets. However, last month bays dedicated to medicines and healthcare treatments launched in 20 stores as part of a limited trial.
The initial lineup of branded products includes cough and cold formulas from Beechams, Sudafed and children-focused brand Calpol.
Skin treatments from E45, decongestant oils from Olbas and Jungle Formula insect repellent are among other products listed.
"At Holland & Barrett we're known for offering a wide range of innovative products to help our customers stay well. However, they've told us that sometimes they would like more immediate relief too," a H&B spokeswoman told The Grocer.
"That's why we're trialling a selected range of medicines and healthcare products in around 20 stores, which is a range extension to give our customers more options to take control of their health and wellness."
The retailer has been investing heavily in improving its stores and customer offer following the completion of a deal by owner LetterOne to buy back its £700m debt.
Part of the strategy has involved growing its presence in areas of the market that relate to its core health and wellness offer where it's not traditionally been competitive, or had a presence.
In September H&B relaunched its entire food and drink category, with 500 new products hitting stores under the strapline 'Food that Loves You Back'. It also began trialling branded fixtures at three WH Smith Travel stores in February 2023, and last month restarted its rollout of concessions within Tesco stores in the UK.
The move into products traditionally sold in high street pharmacies comes as the wider pharmacy sector continues to struggle because of post-Brexit labour shortages, the impact of Covid-19 and wider funding problems.
The result has seen the number of pharmacy contracts owned or operated by corporate or supermarkets fall, increasing concerns from some in the sector that some customers could be underserved in some areas. Those concerns where heightened when Lloyds announced it would permanently close all 237 of its counters within Sainsbury's stores earlier this year.