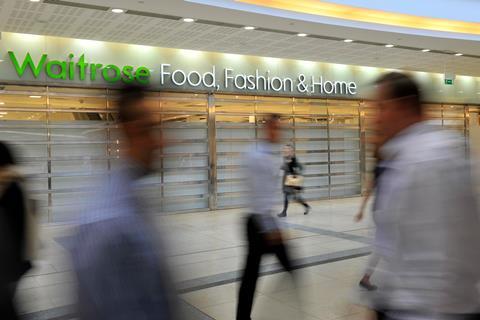 Waitrose has launched a DNA pop-up service in its Canary Wharf store to offer shoppers genetic tests that "nudge" them to make healthier choices.

The technology - from DnaNudge - works by taking an on-the-spot cheek swab that, when tested in the brand's patented 'NudgeBox', generates a personalised DNA report for the user based on nutrition-related health traits.

Once tested, users can use the DnaNudge smartphone app or wrist-worn DnaBand to scan more than 500,000 food and drink product barcodes and assess a product's suitability based on their personal genetic profile.

The DnaBand flashes green if it is a good match for their DNA and red if it isn't. The app also recommends alternative green product swaps in the same category.

The pop-ups - with another located in the John Lewis store in London's White City - will be in the London stores for three months initially, with experts from DnaNudge on hand to help shoppers with the technology. The company is selling a complete 'Nutrition Package' - comprising DNA test, DnaBand with charger and lifetime subscription to the DnaNudge app - for £120.
Moira Howie, nutrition and health manager at Waitrose, said: "Retailers have an important role to play in helping shoppers who want to be healthier, so we are pleased to be teaming up with DnaNudge to offer this new technology that enables customers to make more informed choices based on the dietary aspect of their DNA."

Peter Cross, customer experience director at John Lewis, added: "We're always looking for ways to make our customers' shopping experience more personalised and relevant to them, which is why we're pleased to give them an opportunity to make more informed purchasing decisions based on their own DNA.

"This technology currently helps our customers make healthier decisions about the food they purchase, but it could also have the potential to broaden out into categories such as skincare in the future."

In 2018, Waitrose announced it was supporting a clinical trial with DnaNudge and Imperial College London to explore the effects of DNA-personalised food choices on health outcomes for pre-diabetic people.

Professor Chris Toumazou, regius professor of engineering at Imperial College London and CEO and co-founder of DnaNudge, said: "We're excited to be working in partnership with Waitrose and John Lewis to deliver our world-first DnaNudge service to customers in these iconic stores.

"Following the successful launch of our own flagship store in Covent Garden earlier this month, these new pop-ups bring our 'Shop with your DNA' technology and 'Eat right, move more' message for healthier food choices direct to Waitrose and John Lewis shoppers.

"We're all incredibly excited about the future opportunities for customers as we extend our DNA-personalised services into other areas over the coming months."