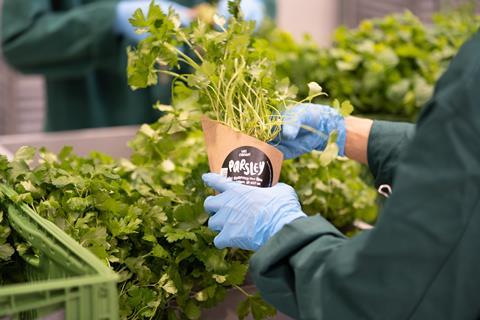 Whole Foods Market is rolling out vertical herb farms in two of its London stores.
Customers will soon be able to purchase a range of herbs – including mountain coriander, flat parsley, basil, mint, dill and thai basil – which have been grown in units situated in store aisles.
The vertical farm units are made by German startup Infarm, which has struck similar deals with Selfridges, Farmdrop and M&S. Infarm raised $170m in Series C funding last month to continue its expansion.
"We are excited to partner with Infarm to offer a truly hyper-local selection of greens and herbs across all of our London stores," said Jade Hoai, director of purchasing and operations at Whole Foods Market. "Customers can expect to find fresh, unique herbs from Infarm's units that are grown locally, have no pesticides, and use a fraction of the traditional resources required to grow."
The two metre square Infarm units are remotely controlled and monitored to provide the plants with the optimum amount of light, air and nutrients.
A cloud-based platform – which Infarm calls the "farm brain" – collects more than 50,000 bits of data over a plant's lifetime, and learns "so that every plant grows better than the one before" Infarm said.
Infarm farmers visit the store after each growth cycle to add new seedlings to the units. The plants retain their roots post-harvest to maintain flavour and freshness.
Whole Foods stores in Kensington and Fulham will be the first to receive the units. The first harvest is expected on 19 November. Infarm will also be supplying the Amazon-owned natural and organic specialist supermarket with a range of produce grown at its Tottenham growing centre.
From later this month, Infarm-grown lettuce, kale, sorrel and red stem mizuna will be available in all Whole Foods' seven London locations.
Infarm claims its units use 95% less water and 90% less transport than traditional agriculture, as well as 75% less fertiliser and no pesticides.
"Whole Foods Market felt like a perfect fit for Infarm," said Daniel Kats, VP of corporate sales at Infarm."Its commitment to providing customers with vibrant, sustainable food aligns with our goal of growing produce locally and, in the process, substantially reducing food waste and the environmental impact of what we consume.
"We hope that in installing our modular farms in Kensington and Fulham, we can help to educate shoppers about the future of food," Kats added.