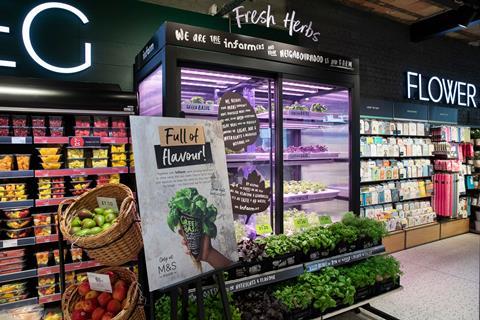 M&S is rolling out vertical herb farms to a further six stores across London after launching the concept at its Clapham Junction store in September.

By next week, shoppers will be able to buy store-grown and harvested herbs at stores in Bromley, Ealing Broadway, Kensington, King's Road, Marble Arch and Stratford City as well as Clapham Junction.

The vertical farm units are made by German start-up Infarm and are remotely controlled and monitored to provide the plants with the optimum amount of light, air and nutrients. Data from the units is sent to a platform which "learns, adjusts and continuously improves to ensure each plant grows better than the last one", Infarm and M&S said.

The units are two square metres in size but can produce the equivalent crop of 400 square meters of farmland, the company claims, while using 95% less water and 75% less fertiliser.

Seedlings have already been planted in all six stores and will be harvested by Infarm farmers in coming days. The farmers visit stores at least twice a week to harvest and plant new seedlings.
M&S used trading data from its existing fresh herb range to identify the best sites for the rollout.

"Our farming unit has been a real talking point since we reopened in September and is helping change the perception of M&S Food in the local area," said Joe Erskine, Clapham Junction store manager.

"The farm brings a feeling of real freshness to our product offer and customers have been keen to discuss its sustainability benefits too. The feedback on the product quality and flavour has been outstanding, with coriander topping the list as our best-selling line in the range," he added.

Thyme, Italian and Bordeaux basil, mint, mountain coriander and flat-leaf parsley are being grown in the vertical farms. They are sold for £1.20 and retain their roots. M&S said the selection would be "seasonally tailored".

M&S is Infarm's first retail partner in the UK. Erez Galonksa, CEO and co-founder of Infarm, said the Clapham Junction store launch had generated "tremendous excitement among shoppers".

"As we expand to several more store locations, we look forward to making Infarm a core part of the fresh, sustainable produce menu available to London's most demanding, health-conscious consumers," he said.