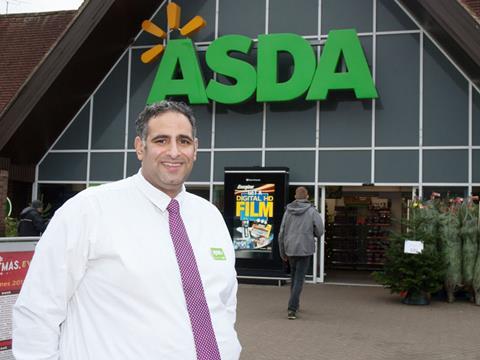 What's been the star Christmas item so far? It has to be our Night Before Christmas Boxes. They have been massively popular. They are boxes for £2.50 which people can fill with presents; a lot of families have been using them to leave presents for Santa.

What Asda gifts have people been putting in them? The great thing is they can be used for anything. They are perfect for our deals on CDs and DVDs, which are three for £20, or for George nightwear which is currently £10. They are also good for things like chocolates - and carrots, of course.

Do you think people prefer promotions or everyday low pricing? We have some great promotions at the moment, such as the six for £25 wine deal and three-for-two on our whole beauty range. But over the last six weeks or so we have been reducing the amount of rollbacks and concentrating on having clear and simple price points on products, so we don't get that yo-yo effect on prices.

You mention music and DVDs. Are people still buying them from stores? Times have changed and people are doing a lot of downloading but at this time of year there is still a big demand, just as there is with books, which we also have on promotion. We've also got a range of 15 different vinyl LPs which are selling really well, as well as retro games consoles. Rolling back the years!

Away from Christmas, what else is doing well? About 18 months ago we brought in a new concession counter with the Haji Baba meat counter for our large number of ethnic customers. It took over from our previous butcher. The fact we changed to a halal butcher did provoke a few negative comments at first from some customers, but it's been fantastic for sales and not just among our Muslim customers. It has won other customers over too. I've really seen sales take off.
Winner: Asda Holmers Farm Way, High Wycombe
Store manager: Arrash Mahdavi
Opened: 1983
Size: 60,000 sq ft
Market share: 35%
Nearest rivals: Waitrose - 1.1 miles, Tesco - 1.7 miles, Sainsbury's - 1.8 miles, Morrisons - 1.9 miles
Store data source: Analysis by CACI. Call the market planning group on 020 7602 6000