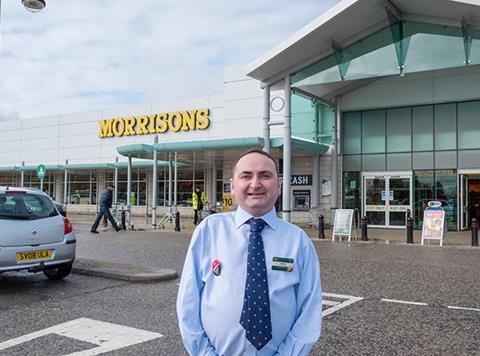 Have you benefited from the ongoing store refresh programme? Yes. We had our fresh produce area refreshed in June last year and our café in May last year. It's one of the busiest cafés in the country for Morrisons and the refresh has been great. I come from the restaurant sector and I think the Morrisons café stands up really well against high street restaurant brands. The fish and chips meal and a drink for £6 is great quality and value.
Winner: Morrisons Inverurie
Store manager: Adam Burke
Opened: 2004
Size: 20,000 sq ft
Market share: 18%
Nearest rivals: Tesco - 0.8 miles
Aldi - 1.1 miles
Sainsbury's - 13.7 miles
Asda - 15.2 miles
Store data source: Analysis by CACI. Call the market planning group on 020 7602 6000
Morrisons is making a big issue of local sourcing. Do you think it matters to your customers? We've actually just begun supplying haddock in our fish counter, which comes straight off the boat at Peterhead, so it doesn't get much fresher than that. We even name the boat it has come off so customers know exactly how fresh it is. Having that locally sourced and quality produce is one of the things that sets Morrisons apart.

Do you get much say as a manager about what local products are stocked? Yes I do. I met the chief executive of McKenzie's Biscuits, a local brand with great products, in August last year and by September we had his products in my shop. The company gives us the freedom to take those decisions.

How badly was your store affected by the Beast from the East? It was certainly the worst I can remember since I came to Inverurie, but there was not a day when I had to close a single department down. I have such admiration for my team. Although lots of the roads were closed off, they all managed to get in.

Have the recent management job cuts hurt morale? We are obviously going through a consultation but it's gone down in a positive way. Staff see that it's being done to get more staff on the shop floor.

What is your star product for Easter? It has to be the Game of Thrones Dragon Easter eggs. Forget the three for £10 offer, the quality of this one is just amazing.