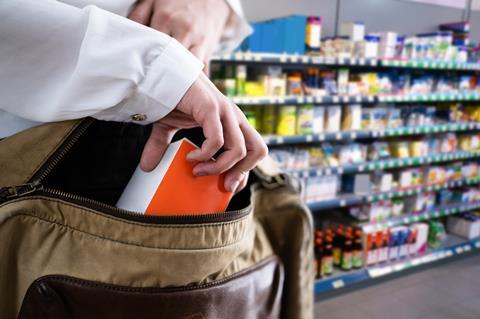 Concerns are mounting over a major increase in shoplifting rates, thought to be driven by the escalating cost of living crisis.
Retail analyst at Shopfloor Insights Bryan Roberts said the situation is "definitely getting worse". Shopworkers have reported organised theft levels being "off the charts so far this year", he said.
Store managers too have told The Grocer of higher crime rates, as they're noticing "new, first-time shoplifters" as opposed to "the usual suspects only".
One store manager reported shoplifting starting to rise across everyday and low-value items "that you'd find in your weekly basket", in contrast to the more regularly-targeted luxury, high-cost items.
Another manager said the issue had worsened since Christmas – prompting them to gear up the shop and the team for an escalation in shoplifting cases since the start of the year.
This has involved bringing back the gated one-way entry and exit system to the branch, securing all gates across checkouts, and adding extra screens around the shopfloor to highlight CCTV presence.
"The other day we stopped a pensioner who was trying to steal things like washing powder and shampoo," they added. "With the cost of living, people are going to have to start making choices."
food poverty expert and Ulster University senior lecturer Dr Sinéad Furey said this was "not a new phenomenon".
"We have seen this before in previous times of austerity or economic downturn," she said.
"The return of 'stealing to eat' instead of being able to 'afford to eat' is yet more proof that we need effective policy solutions that put sufficient income in people's hands in a dignified way so that poverty and resorting to crime do not become mainstream means of securing the most basic essentials of living," Furey added.
Meanwhile, in Sainsbury's 🤯 pic.twitter.com/2Hm3PqdHWX

— Bryan Roberts (@BryanRoberts72) January 12, 2022
Research by the Food Foundation showed in April 7.3 million UK adults skipped meals, reduced meal size or went without food for a day due to costs.
Shore Capital analyst Clive Black agreed the "temptation to shoplift is likely to grow for some" – especially as inflation hit 9% in April, according to figures reported by the Office for National Statistics (ONS) on Wednesday.
"More straitened times bring a greater risk, and in some cases, need, for shoplifting, which is a notable problem for shopkeepers, especially since the police are disinterested participants, despite stores paying extortionate rates.
"The government shows little real interest in such matters whilst the courts and penal system cannot cope with serious crime never mind more mundane matters such as thieving from a store," added Black.
"It is a symptom of a failed system, sadly. So, within limits, shopkeepers have to try and control matters."
Stores have adopted an array of techniques and practices from security tags to increasing CCTV presence, setting up physical barriers and having more people on the ground.
Many have resorted to padlocking items, including low-value ones. In one Sainsbury's store, pictures show scores of Lindt and Green & Black's chocolate bars in individually locked plastic cases.