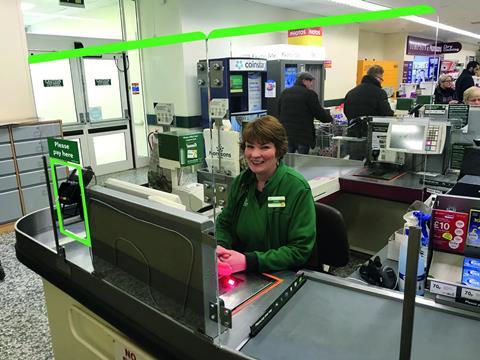 New regulations requiring shop staff to wear masks will not apply to workers behind a Perspex screen, ministers have announced today.
The change in rules come after 48 hours of confusion since the Prime Minister's announcement of mandatory face masks for indoor shop workers.
Changes follow talks held between retail bosses and the BEIS when the industry expressed anger that the huge investment in protective screens may not prevent staff having to wear face coverings.
The initial regulations included no exemptions for staff behind screens. However today's backtracking by the government has potentially put supermarkets on a collision course with the latest update.
Asda announced yesterday that "all Asda store colleagues in England, Wales and Scotland will now wear a covering while at work unless they have a medical exemption".
After today's U-turn, an Asda spokesman said: "Colleagues behind a screen do not need to wear a mask. Some colleagues may still choose to wear a covering. Colleagues can do if they wish to and will have one provided for them."
Read more
Under the latest clarification, face coverings must be worn by retail, leisure and hospitality staff working in indoor areas which are open to the public and where they are likely to come into contact with a member of the public, for example shops, supermarkets and restaurants.
However, "If these businesses have taken steps in line with HSE guidance for Covid-19 secure workplaces to create a physical barrier between workers and members of the public then staff behind the barrier will not be required to wear a face covering."
Other exemptions include where colleagues are not in a customer facing environment such as a stock room, if they have a disability or health condition, or if they are with someone who relies on lip reading to communicate with them.
"We welcome the additional clarification from government on the wearing of face coverings by colleagues in stores," said ACS CEO James Lowman.
"Thousands of retailers have already invested in their stores through the installation of Perspex screens and other PPE for colleagues, so it's welcome that these mitigating measures are being recognised by the government. We will continue to work with retailers to ensure that they can comply with the detail of the new regulations."
The legislation being introduced also includes making Covid secure guidelines for workplaces a legal requirement which could lead to fines of up to £10,000 for retailers who break them.