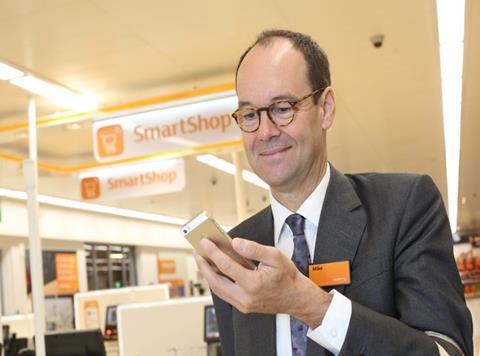 After Mike Coupe laid out his rationale for pursuing Argos today, it now looks a matter of "when" not "if" Sainsbury's will come back with a firm offer to Home Retail.
Coupe was keen to stress Sainsbury's won't overpay for Home Retail, which has seen its share price soar by 50% since news of the supermarket's approach broke last week.
He also said the potential acquisition would only accelerate Sainsbury's existing strategy (by about two years) rather than represent a strategic step change. But buying Argos is looking more and more like Coupe's Plan A to get Sainsbury's where it wants to go.
Sainsbury's now has until 2 February to make a firm offer and, with Coupe referring to the constructive relationship he has with his Home Retail counterparts, a confrontational (or even hostile) bid process doesn't look on the cards - so if a firm bid is lodged, an agreed deal is likely to be close.
However, with rumours of investor unease over the strategy, the real battle may be with its own shareholders and the wider sceptical City.
Laying out the rationale today is unlikely to have changed too many minds – as Sainsbury's stuck to its already published themes of developing a multi-product and multichannel offer that gives flexibility and choice to its customers.
What we did find out today was Sainsbury's is planning a gradual overhaul of the Argos store network rather than some of the more extreme store closure plans mooted in the press.
Coupe said about 55% of Argos stores have leases due for renewal over the next five years, and this would give it an opportunity to relocate some of those stores to within larger, existing Sainsbury's stores.
Essentially, Coupe is looking to supercharge the existing experiment with Argos that has seen it open 10 digital hubs in Sainsbury's stores. This model could also be rolled out in some form throughout Sainsbury's convenience network to enable customers to pick up Argos goods from a far larger number of locations.
"As a result of getting Argos into Sainsbury's stores and extending its reach, we would expect more Argos locations, not less," he said.
It also seems Argos and Sainsbury's would be run more separately than might have been expected, with Argos largely maintaining its own logistics and distribution offer, with integration a long-term goal rather than a strategic priority (ie don't expect four-hour delivery for Sainsbury's goods any time soon).
Coupe also looked to head off criticism that the customer bases of the two retailers are misaligned – noting that 40% of UK households shop in both, with two-thirds shopping in each. Customer segmentation is also similar (especially in terms of age profile), but the analysis also clearly shows that more ABs shop at Sainsbury's (31% v 27%) and more DEs shop at Argos (29% v 25%). Whether Sainsbury's can run Argos effectively and profitably while maintaining its own reputation for service and product quality must remain a question mark.
Perhaps the most notable part of the call was what Coupe didn't say – avoiding mentioning Homebase wherever possible.
Citing UK takeover rules, Coupe said he was restricted in what he could say about the DIY retailer, concentrating on Argos instead.
It's tempting to see this as a public admission that Sainsbury's has no intention of operating Homebase – even in the short term – and conversations have already been held about spinning it off as part of the deal.
This leaves another question mark over Argos' current strategy of rapidly growing the number of digital hubs it has in Homebase stores, but there is a strong argument that many of these could be shifted to Sainsbury's stores without the same levels of disruption of moving high street stores, and that a food retailer is a more natural home for customer crossover than the DIY superstore.
We'll get more information about Home Retail tomorrow when it issues its Christmas trading statement after some downbeat guidance before Christmas.
Until then, it's a waiting game to see what Sainsbury's does next. The length of time Coupe spent on the deal today and the depth of explanation of why the deal makes sense suggests Sainsbury's thinks it's in pole position to get the deal done.