Struggling supermarkets are sitting on "massive land banks" at the expense of thousands of new homes. At least those were the headlines conjured up by the national media at the release of a report by commercial property advisors CBRE in January.
The new data showed UK grocery stores were building on just 6% of their land while the remaining 47 million sq ft went unused. Shocking, isn't it? But it turns out the coverage "needed a little bit of a reality check", according to John Witherell, senior director at CBRE.
The top line figure of 94% of land sitting idle may have been latched on to by mainstream media as a convenient new stick with which to beat the big four, but the truth is that only 25% of the land taken into consideration by the report is currently owned, or leased, by the supermarkets, according to Witherell.
"The land they hold is very capital intensive. To sit there doing nothing with it is quite counter-intuitive"
The remaining 75% belongs to all sorts: farmers, owners of "tired 1970s shopping centres" or just about any landowner seeking planning consent for a supermarket on the off-chance it becomes a possibility.
The report even included sites merely with the potential for applications based on an assessment of supermarkets in the catchment area, any reference to such plans in the local press, or positive representations from site owners. In short, it threw everything it possibly could into the mix.
And the subsequent media "misreading" of the unintentionally "misleading" data painted an inaccurate picture of supermarket land banks.
So how big are the supermarket landbanks? And what are the supermarkets doing with them? Of the 25%, or 12 million sq ft, owned, or controlled by the supermarkets, Witherell estimates around 50% with planning consent is being taken forward. In 2014 that consent was extended to seven million sq ft of grocery space, according to construction analysts Glenigan, leaving around 3.5 million sq ft awaiting development.
Hardly land banking on the scale we'd been led to believe, then. Still "construction levels are very low, there's no doubt", Witherell concedes, and he estimates there are around 120 sites owned by the top five that have been temporarily, or permanently shelved - including the 49 sites Tesco announced it would not be taking forward at the start of this year.
Figures from Glenigan mapping planning approvals from 2010 (see box) demonstrate how hard the Brakes were slammed on store expansion last year, when sites receiving consent from the big four almost halved. And while Asda CEO Andy Clarke again hinted at a renewed appetite for new store openings last week the direction of travel is clear: Tesco has stopped building and is closing a further 43 stores, Morrisons is in retrenchment mode and, as part of a strategic review Sainsbury's announced in November 2014, it will open just 500,000 sq ft of space in the next two years, two thirds of previous estimates.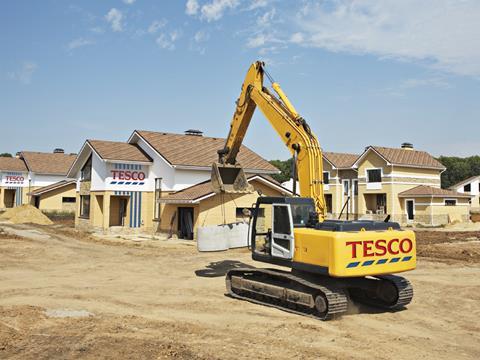 Counter-intuitive
If this leaves the grocers with a sizeable surplus of floorspace, the one thing they can't afford to do is nothing. "retailers are under pressure. The land they do hold is very capital intensive. To sit there doing nothing with it would be counter-intuitive," adds Witherell.
That explains why Tesco has already begun the process of liaising with local councils on finding alternative uses for the sites before it can market them accordingly. Simply selling up all the unwanted sites for which they own the freehold, which The Grocer understands to be the vast majority, is unlikely to be the answer, however.
"They will have paid top dollar for these sites, because A1 planning permission is among the hardest to obtain," says Clive Black, head of research at Shore Capital. "So though they do need to raise cash and deleverage, they're not going to engage in fire sales."
"Politicians would sell their grandmothers if it suited them. They are pretty irrelevant to the whole process, and deservedly so"
A quick sale could mean big losses, particularly for out of town stores, which have depreciated by a "broad brush" figure of 20% since 2012, dependent on location, and the level of planning consent, according to Richard Saunders, the partner in charge of retail agency for chartered surveyors Sanderson Weatherall.
This decline in the market value of land itself, in response to a shift in consumer shopping habits and an increasingly tough trading climate, has resulted in substantial writedowns not only in the value of landbanks. Existing store valuations are also being adjusted. For example, Sainsbury's confirmed in November it would be forced to absorb write-offs of £628m, as a result of the reduced book value of existing sites, and a loss in value from those potential sites it would no longer be taking forward.
Then there's the challenge of finding a buyer. Since valuations are higher for A1 planning permission, the best price would be achieved from selling to a rival. But who is in the market for 80,000 sq ft of retail space - the standard store format for a Tesco Extra?
The simplistic answer is expansive rivals Aldi and Lidl, particularly in areas where it wouldn't leave the big four exposed. Allan Wilen, economics director at Glenigan, suggests potential exposure is inevitably more problematic for Tesco than Sainsbury's, Morrisons or Asda, given Tesco's "comprehensive coverage" of the country.
A property spokesman for one of the major multiples agrees that if they were to sell to another food retailer it "would most likely be to the discounters" rather than any of its big four rivals. However, Black thinks Aldi and Lidl are "probably the last people on earth" the big four want to be selling a site to. Instead, Black predicts a more "patient approach" to realising maximum potential value, with retailers likely to explore alternative uses, including increased mixed and residential -only development in the South and East of England.
Russell Smith, partner at commercial property and planning consultants Rapleys, believes selling land off for housing development would "plug some of that black hole". And it's already happening. In 2014 Tesco confirmed plans to construct more than 4,000 homes across the UK by 2017. At the time, a spokesman announced: "Where we no longer intend to develop sites, we sell, lease, or develop them for housing."
The question is how? Tesco ordinarily would use its own residential arm Spenhill, as it has already done with an ongoing mixed use development in Streatham, which includes 250 homes (some affordable), a leisure centre, and a public ice rink. Anchoring this new development, however, is a 63,000 sq ft Tesco Extra, an unlikely feature going forward.
A more likely strategy therefore is a re-application for a change of use before selling to a third party. And that's not straightforward. "There is no direct route from a food store to residential consent," explains Angus Irvine, a fellow partner at Rapleys. "But there is the opportunity to convert to alternative use."
The choice between the two strategic approaches will likely be decided on a "site by site, horses for courses basis," says Black, depending on "what is going to achieve the best outcome for shareholders."
And for those sites lacking potential for either residential or mixed use development, there always remains the option to simply wait things out. "The grocers are reviewing their estates. They'll hold what they need for future demand once they've devised their strategies, and they'll consider releasing what they don't need," adds Irvine.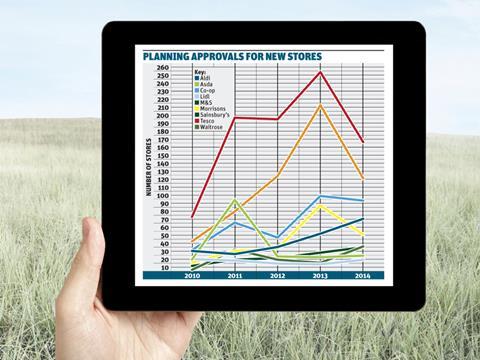 However, there may be another force to contend with in deciding the future of these landbanks: politicians. Addressing the chronic housing shortages in the South East is a potential vote winner. And with the CBRE's controversial report - or at least the media's interpretation of it - identifying supermarket landbanks as a source of undeveloped land, any wait-and-see tactics may be frowned upon. On 11 February, prime minister David Cameron told MPs: "We need to see successful development going ahead and brownfield sites being used. If those sites cannot be used for retail, they should be made available for other uses."
Opposition leader Ed Miliband has gone further, vowing that any future Labour government would introduce legislation that prevents developers stockpiling land. However, Saunders draws parallels with residential developers that hold "strategic land" for future projects and questions why the "finger is pointing at the supermarkets" - particularly when compulsory sale orders could have "massive implications on a site's value". Ultimately, he believes this course of action is "pretty unrealistic".
Black is similarly dismissive. "Politicians would sell their grandmas if it suited them. The low esteem with which politicians are now held - probably worse than estate agents and bankers - means they're pretty irrelevant to the whole process, and deservedly so."
Forget the politicians, then. What about the views of the supermarket customers?
There hasn't been a "tidal wave of empty, large food stores," as Irvine points out, but negative media coverage of the mothballed 47,000 sq ft £22m Tesco Extra store in Chatteris, Cambridgeshire - the second it had "delayed" in September 2014 alongside a £10m new build in in Lincolnshire - can't be good for business.
"There's impact there, in terms of what the locals perceive of Tesco, having made promises of a beautiful store coming in," says Smith.
And the knock-on impact doesn't end there, with the potential to stall major mixed-use projects that had relied on the arrival of an anchor store, adds Irvine.
"It's very brand damaging," says Witherell, who thinks there's a need to clarify "messaging" to the consumer and "explain the economics" behind these decisions. It's hard to argue with that. But worse, when it comes to the consumer view, without clear communication on their plans for these redundant sites, the supermarkets run the risk of further misinterpreted reports doing all the talking for them.
"The supermarkets are hated when they build new stores, and hated when they cancel them," says one former CEO. "But they need to get a grip."