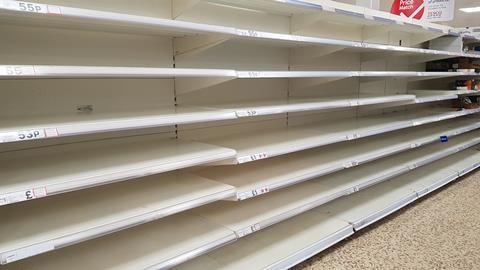 Supermarket bosses have warned the public against embarking on another spate of panic buying, as the UK braces itself for a new phase of nationwide lockdown measures.
A series of retailers told The Grocer the one thing that could cause a repeat of the empty shelves seen at the start of the pandemic was a sudden surge in demand from shoppers, with supermarkets stressing they had plenty of capacity in store and online.
In March, stockpiling saw £60m of products stockpiled in the first week of the crisis alone and some newspapers and social media sources this weekend suggested that there were fresh signs of empty shelves.
However, retail leaders stressed there was no need for customers to panic, and said the experience of the first lockdown had shown that supermarkets were able to stay open during the crisis.
"Retailers have done an excellent job in ensuring customers have access to the food and necessities throughout this pandemic," said Andrew Opie, director of food & sustainability at the British Retail Consortium.
"Since March, retail businesses have strengthened their supply chains as well as investing hundreds of millions to make stores safe and secure for customers; this includes perspex screens, social distancing measures and additional hygiene measures. As such, retail remains a safe space for consumers, even under future lockdowns.
"Supply chains are stronger than ever before and we do not anticipate any issues in the availability of food or other goods under any future lockdown. Nonetheless, we urge consumers to be considerate of others and shop as they normally would."
An Iceland spokesman said: "The chief lesson of the national lockdown in March was that shortages were created by people buying more than they need.
"This is both irresponsible and socially divisive because it is only an option available to those who can afford it, and disadvantages the vulnerable. There is plenty of stock in the system if everyone continues to shop normally."
Asked if stores could bring in the sort of rationing on purchases seen in the last lockdown, the spokesman added: "We regularly review whether we need to restrict purchases of any products to ensure that these are available to as many customers as possible. There are currently no restrictions in place and the need for these should be avoided if people resist the urge to stockpile."
Another supermarket source said: "There is no shortage of food in the supply chain and the only thing that could cause that is if there is a repeat of the sort of panic buying we had in March."
Tesco said it continued to have good availability in stores and online, and had not experienced any shortages.
"We have more than doubled our online capacity from around 600,000 weekly slots at the start of the crisis to 1.5 million now," said a spokeswoman.
Logistics expert Dr Jonathan Owens, of the University of Salford Business School, said supermarkets were better placed to handle a spike in demand after a rapid upscaling of their online businesses, but warned that customer behaviour could still see a repeat of the chaos in March.
"Already the second wave is creating a surge in demand and new spike because of the behaviours of panicked customers," he said. "Unfortunately, the majority of stores do not have enough capacity (front or back shop) to store excess stock to meet regular customer demand.
"Extra supply chain capacity could mean getting extra shipping containers to increase warehousing, but there is both a global shortage and still an imbalance in the supply chains from the first wave of these.
"What we do not want to see this time round is the customer developing a panicked stockpiling mindset. This needs to be nipped in the bud quickly, otherwise it could be a case of 'déjà vu' with supermarkets being enforced to control their supply whilst they attempt to replenish stock from a under-pressure supply chain."
The warnings from supermarket bosses come as the UK braces itself for the impact of a second wave of the virus, which today saw the government's medical advisers warn the UK could face 450,000 new cases within weeks unless it tightens existing measures.
Chief scientific officer Sir Patrick Vallance said there could be more than 200 deaths in the UK every day by November if the disease was not brought under control, adding that the UK faced a six-month battle to stop the pandemic getting out of control over the winter season.