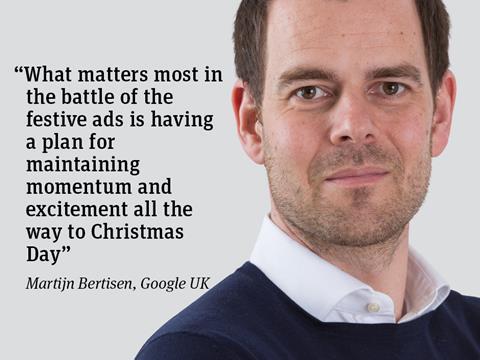 It's not over until the last reduced mince pie is sold, but the fierce battle to dominate share of voice at Christmas is approaching its endgame. Grocers have implemented their creative and distribution marketing strategies and, as has become the norm, video has played a huge role.
The now traditional teasing and unveiling of the festive ads on video platforms like YouTube and the sharing of this content on social media started as soon as the last Bonfire Night fireworks spluttered out. Everyone who seeks out a Christmas video is more than just a viewer – they are actively looking for content and paying attention. YouTube can measure how many views a video gets and by including data on paid views, organic views and watchtime, we can create a robust top 10 Christmas ad ranking.
The top three placing is usually fought between Sainsbury's, M&S and John Lewis – the latter edged the top slot this year and Sainsbury's came third. This year, it decided not to deliver a one-off creative and instead used the brand building blocks established throughout the year, extending its 'Living Well' message and deploying its now-familiar black and white film with orange font.
Aldi's ad featured the return of Kevin the animated Carrot and ranked sixth, while Waitrose's black and white ad came seventh.
The lesson for 2018? Well, there is a debate about launch timing – the Co-op held back its ad until 1 December – but what matters most is having a plan for maintaining momentum all the way to Christmas Day. One way is to make extra video content; Sainsbury's created at least 25 shorter versions of its ad for social media, and Aldi also delivered follow-up executions.
It's also key to ensure there is a clear benefit message included within the campaign. This was identified by Kantar Millward Brown as missing in many Christmas campaigns, including John Lewis'. Its research suggests consumers also want relevance and 'new information' in their ads. Again, this can be served in smaller slices of content.
But it's not all about video in the final dash – don't forget the tactical importance of search. By tapping into real-time search data, you can find out which goods are most in demand in different regions and ramp up promotions and stocking levels accordingly, to tap into the goodwill generated by brand ads.
Next year, voice search will be coming more to the fore, as people become comfortable with the voice assistant speakers that are topping Christmas lists. I'll be sharing more insights and examples on this topic and other useful innovations to help make the new year rich with opportunity for everyone.
Given I've talked about ads on YouTube, I do want to mention the steps we are taking at Google to tackle brand safety and problematic content on YouTube. We want to make it harder for offensive content to surface or remain on YouTube and we want to protect our community against violent or extremist content. To that end, we have invested in more human reviewers to both remove reported content that violates our policies and to train machine learning systems.
You can learn more at a dedicated blog from the YouTube CEO.
Martijn Bertisen is UK sales director at Google