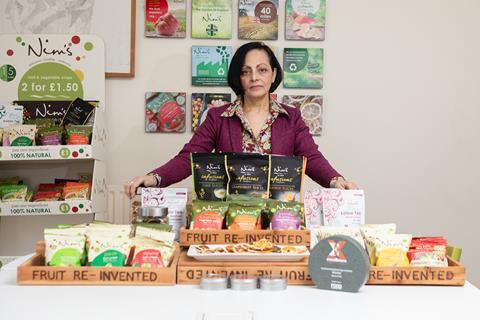 Dozens of food manufacturers and restaurant owners are among a group of businesses accusing UK energy firms of exploitation through "secret commissions" to third-party brokers.
Businesses are accusing gas and electricity suppliers of inflating their bills by not disclosing the costs associated with paying commissions to third-party brokers, who they claim often did not advise them of the best deals.
One of the claimants is Nimisha Raja, owner of Nim's Fruit Crisps, which supplies Tesco and restaurant chains including Wagamama, Zizzi and Pret a Manger.
She signed a three-year-deal with a new supplier in November 2021 after her previous supplier went bust, but claimed the broker at no point mentioned any commission payment.
Her monthly bill initially soared from between £2,500 and £3,000 to over £15,000 in the first months, and has now settled at between £5,000 and £6,000.
"It impacts the business, we can't pass it on to the customer so we have to absorb it," she said.
Nim's Fruit Crisps is now one of the more than 200 businesses being represented by law firm Harcus Parker, which is calling out energy firms for allegedly omitting crucial details about commission payments to new customers.
The use of third-party brokers is not uncommon practice. However, brokers are now under the microscope for allegedly keeping the details around the commissions they bag when striking deals with new customers.
Harcus Parker – which was also involved in the Tesco equal pay case of 2021 – estimates the Nim's Fruit Crisps owner could be eligible to claim back £18,000 if it is found commissions were not properly disclosed.
Its lawyers have written to most UK energy providers, including British Gas, for details on how much commission they have paid to brokers – and threatening to take them to court.
In a letter seen by The Grocer, the law firm argues its clients are entitled to sue their energy companies because failure to disclose the commissions paid to the broker constitutes a "bribe" under common law.
Some businesses have also claimed brokers did not have their best interests at heart when signing them up to a new supplier, failing to advise them properly of all options.
Harcus Parker claims "in some cases, the secret payments have inflated bills by 50% in a practice that appears to have developed over the last 20 years".
"Food manufacturers are large consumers of energy and we are very aware that the increase in gas and electricity bills has hit them particularly badly," said Harcus Parker senior partner Damon Parker.
"Huge numbers of organisations are unknowingly paying more for their energy than they should be because many suppliers increase the cost to their customers to pay secret commissions to rogue brokers.
"We hope if we can help food manufacturers recoup some of these secret commissions from the energy companies it will help to alleviate their problems."
Energy firms have come increasingly under scrutiny over the past couple of years for dramatically hiking costs in the face of increasing inflation.
UKHospitality CEO Kate Nicholls said the behaviour of energy suppliers throughout the cost of living crisis "has been nothing short of disgraceful".
"From concealed fees and inflated standing charges to simply refusing to supply hospitality businesses, there has been a clear pattern of suppliers taking advantage of this crisis and the vulnerability of businesses," she said.
"The emergence of questionable broker commissions is very concerning and something must be done to address any such behaviour.
"Venues expect to pay 82% more in energy bills when the government drastically reduces its energy support in April, which will simply be unsustainable for many. Taking energy suppliers to task would be a good first step in mitigating these shocking price rises."
Harcus Parker is urging all non-domestic energy customers who have used a broker to sign up to a new supply contract, and were not told how much commission they would be paid, to get in touch.
The law firm said energy suppliers had three months to respond before it moved on to the next stage of litigation.
The Grocer has reached out to British Gas for comment.