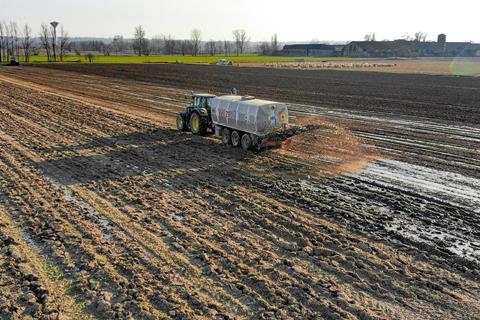 Soaring gas prices are threatening a crisis at the UK's only major fertiliser production plant, which suppliers warn could lead to food price hikes and renewed shortages of CO2.
Emergency talks between the industry and government this week heard that demand at the CF Fertilisers plant in Billingham on Teesside had plunged to just 30% of its usual levels, with farmers holding back from purchasing fertiliser because prices have "gone through the roof".
Sources said the company, which is running a scaled-down operation after receiving a government bailout last year when it became uneconomic to run the plant due to rising gas prices, has warned it is now being "pushed to the limit" because of the perfect storm of economic factors.
As well as Russia and Ukraine being major fertiliser producers, gas prices have gone up even further since the conflict began, leading to fertiliser costs quadrupling.
"Seventy to eighty per cent of the cost of fertiliser production is gas," said a source. "The demand from farmers is so low because of the huge price.
"This is a major concern because fertiliser is a key part of the growing process and there is a fear that it will lead to lower yields."
CF shut down its second site at Ince, Cheshire, because of the impact of rising gas prices on profitability, although in January a deal was reached to keep the Billingham site open.
The company also provides about 60% of the UK's carbon dioxide supply, which is vital for a raft of food and drink businesses including soft drink suppliers and abattoirs, as well as extending the shelf life of food.
A second source told The Grocer: "The problems facing CF were already well known and the knife has been further twisted by the global situation.
"The fact is if farmers can't get the fertiliser they need whether that is for milk, poultry of animal feed production, it is going to lead to lower yield and higher food prices.
"Unfortunately it also risks further problems with CO2 shortages, which just shows what a terrible vicious circle this situation with prices is causing."
Government officials are understood to have told the Food Resilience Industry Forum (FRIF) war room that they are "very close" to the situation.
It follows criticism from MPs last month that Boris Johnson had done too little to react to the threat posed to British farmers due to the cost of fuel and fertiliser hikes.