With social media affording more space than ever before for food and drink brands to have a 'voice', an increasing number are speaking out on political issues. So what are the benefits – and how can it backfire?

This article is part of The Goodness Issue, a special edition of The Grocer dedicated to celebrating the work the grocery industry has done to tackle environmental, political and humanitarian issues facing the world today
No politics at the dinner table, please. For a long time, that was the unwritten rule for almost all food and drink brands.
In the past few years, though – and the past 12 months, in particular – this rule seems to have flown out the window.
"Now it's becoming a consumer expectation," says Christina Miller, connections director at VMLY&R, "that brands not only talk the talk but walk the walk when it comes to activism, no matter the category."
Be it Brexit, Trump, the campaign for free school meals, or the refugee crisis more and more food and drink brands have found their voice at the nation's dinner table.
So, what's changed? And is the right thing socially always the right thing for business?
Overtly political campaigns used to be a rarity, and a huge talking point. See the black-and-white 'Boys on a Bench' Coke ad in 1969, printed following the assassination of Martin Luther King, which showed boys of all races sitting side by side. By the time Ben & Jerry's decided to swirl activism into its ice-cream, joining forces with non-profits in 1992 to push children's rights up the political agenda in the US, it was still a relative rarity.
By and large, major brands and retailers only spoke out on political moves that directly affected their businesses. Be it Coca-Cola questioning the levy on sugary drinks, M&S putting its weight behind extended Sunday opening hours or the clamour from tobacco advertisers over their branding emasculation, the examples come thick and fast.
On the social and political issues that reverberated beyond their balance sheet, however, the majority of food and drink companies decided it was wise to stay quiet. Even when – as was the case when they remained tight-lipped during the 2014 Scottish independence referendum – they've received flak for doing so.
But the number of brands weighing in on Brexit just two years later (including Wetherspoons, and Burger King's 'Another Whopper on the side of a bus' stunt) shows that political campaigning has become more widespread and accepted.
"Food brands have realised that they have an active, captive audience through their social media channels"
There are a few factors behind this change. The first is technology. A decade ago, the dominance of bricks and mortar supermarkets and the infancy of social media and e-commerce meant brands only 'spoke' directly to their consumer base via carefully crafted set piece TV or print marketing campaigns. There was little scope for a rolling reaction to current affairs. Now, an estimated 91% of all businesses have a social media account on at least one platform, allowing them to speak directly (and regularly) to their customers in a more informal way.
"We've been doing this for 10 years, and in that time the way people use the internet to build followings around beliefs has become pretty powerful," says Simon Coley, co-founder of Karma Drinks. "You can't tell our brand story in the 0.3 seconds of attention you have looking at a label on a supermarket shelf." Online, he's been able to develop a brand personality – one that includes an opinion on what's happening in the world. And in a crowded social media landscape, taking a stand is often a sure-fire way to stand out and create a brand personality. "If it's going to help us get attention, we'll be as bold as we can," Coley adds, "though you need that relationship between the consumer and you as a brand to be true."
This motivation to cut through the noise means political involvement can often be playful as well as earnest. That was the case with plant-based brand This, whose gentle mockery of Donald Trump attracted attention last year.
"We like making funny content and taking the odd risk whilst we're at it, which can involve playing a bit with politics," says co-founder Andy Shovel. "In our efforts to shake up the category and smash people's preconceptions of plant-based food, we like to use guerrilla marketing and also try to be reactive to what's going on in the news."
BrewDog has been a particular iconoclast, often delivering its political views in a punchy, shareable format, be it speaking out against the crackdown on Russia's gay community in 2014, or its 'Hello My Name is (Unelected) Boris' protest beer in 2019. It's used that to build a highly engaged online community, many of which hang off every word of its high-profile founders. "Our community of 180,000 Equity Punks expects us to take a stand, and support us when we do," says a spokesman.
That relationship is typical of these more forward-thinking brands, says Matthew Fearn, MD at eco-friendly start-up Fearn Products. "Food brands have realised that they have an active, captive audience through their social media channels, and that this relationship stretches much further than just people loving their products," he explains. "Consumers engage with their brands because they reflect their values, their opinions and often because they feel the brands represent their personality.
This all comes down to a growing customer expectation that brands should have a clear set of values, rather than simply being a commercial operation.
According to research by Accenture, more than half of UK consumers (53%) now prefer to buy from businesses that reflect their personal values and beliefs. Fifty-five per cent say the ethics and authenticity of a brand drives their purchase decisions, too. And this proportion is steadily increasing with younger generations, as 64% of gen Z and millennial consumers actively want UK companies to take a stand on the social, cultural and political issues they care about.
"Companies are under pressure to take a stand on social issues – not just voicing their support but taking real action both inside and out," says Miller of VMLY&R. This pressure comes from both consumers and employees, she adds. According to research by Edelman, 92% of employees now expect their CEO to speak up on issues ranging from diversity to climate change, and 73% expect their employer to give them an opportunity to make a positive difference in the world.
"Now that consumers see every soft drink, burger and cereal bar they buy as a vote for a wider value system, brands have had to firmly nail a flag to the mast," says Ben Sillence, strategy director at brand design consultancy Lewis Moberly.
The 2020 effect
If the past decade marked a gradual shift towards this greater expectation around brand values, the past 12 months lit a fire under the movement.
"The pandemic has given way to a dramatic acceleration in consumer expectations towards responsible businesses and brands, and of course the level of scrutiny," says Sophie Lord, executive director of strategy, innovation and sustainability at brand consultancy Landor & Fitch.
It wasn't only Covid-19. Last year also saw the killing of George Floyd in the US ignite the Black Lives Matter movement and the US election trigger a melee of political debate, while the Australian wildfires made climate change feel startlingly real.
"I don't think any company making food and drink can now exist without recognising the complexity of the politics in which we operate," says Coley. "You can't ignore it, and I don't believe you cannot take responsibility for some of the things that need to improve."
In particular, ignoring or misjudging the climate could hurt your business financially, as well as reputationally. Research by business leadership strategists Forrester showed values-driven firms – those with a sense of purpose embedded into their product or service – are more likely to report double-digit year-on-year revenue growth than other companies.
In fmcg, the value placed on purpose is epitomised by the likes of Tony's Chocolonely, one of the fastest-growing chocolate brands in the UK with sales increasing 252.9% in 2020 alone, according to Nielsen. That success can't be divorced from its social conscience, believes UK and Ireland country manager Ben Greensmith. "Our social mission is a big part of what sets us apart from the competition."
"Consumers will repay the brands driving meaningful change for real people with their loyalty"
Purpose is, of course, one of the founding principles of Tony's. But even for brands that don't have this background, the link between conscience and commercial uplift can be just as stark. When Sainsbury's received criticism in November for its 'Gravy Song' Christmas ad featuring a black British family, with some calling for a boycott of stores, the retailer firmly defended its "representation of modern Britain" and its social media team gave laudably short shrift to racist remarks. The result was a level of engagement with its Christmas marketing campaign above that of any other supermarket: more than three million likes, comments or shares, according to Mediaocean.
And the real commercial benefits are longer-term, points out James Martin, associate director of global marketing at FutureBrand. "Consumers will repay the brands driving meaningful change for real people with their loyalty."
This loyalty extends to their workforce too, adds Miller. "By engaging in conversations that hold value and meaning to employees, brands mitigate the risk of a value-led exodus of staff and, in turn, become a desirable destination for future talent."
Saying all that, politics can be risky. For all that customers and employees welcome outspoken socially conscious brands, taking a stand can also be fraught with danger. Sometimes that's as simple as alienating consumers who don't share your view, a calculated risk taken by Wetherspoons boss Tim Martin when he spoke up firmly in favour of Brexit.
Even if people back your cause, the tone of delivery can cause trouble too. When, in June 2020, Bristol Dry Gin followed up the killing of George Floyd and ensuing Black Lives Matter protests with an ad highlighting its 'high flammability' to rioters, there was a major backlash, with some stockists even temporarily removing the drink from shelves. The brand quickly backtracked, but with some shoppers the damage will have been done.
Pepsi also faced a backlash for its 2017 ad starring Kendall Jenner, during which the then 21-year-old supermodel was pictured handing over a can of the soft drink to a policeman in the midst of a Black Lives Matter protest. "So tone deaf it hurts," was one description.
Walking the walk
But the biggest risk of all, says Miller, is "to only say the words and not take the actions. Consumers are watching more closely now than ever to see if actions match words. It's one thing to jump on the bandwagon and post a tweet, but if you aren't taking the appropriate steps to live those values and promises internally and externally at the company, it will be noticed."
See L'Oréal, which faced a backlash of that kind when it participated in the #BlackoutTuesday posting event across social media in support of Black Lives Matter. Critics highlighted its decision three years earlier to fire model and transgender activist Munroe Bergdorf for calling out racism and white privilege.
The key is for any communication to be authentic, says Greensmith. "What isn't cool is when you see brands or their businesses claiming to do good whilst not even meeting their basic contribution to society – for example, tax planning to avoid paying tax in markets. Consumers will see through this and vote with their wallets."
But if you set out your stall as an overtly ethical proposition, consumers will also hold you to a higher standard, as Greensmith and the Tony's Chocolonely team found out only last week. A similar scrutiny befell Oatly in September 2020, when it sold a 10% stake to Blackstone, an investment firm allegedly linked to deforestation of the Amazon (Blackstone has branded these claims "wrong and irresponsible").
"What isn't cool is when you see brands or their businesses claiming to do good whilst not even meeting their basic contribution to society"
Such examples show "just how watchful consumers are and the impact that not matching your words and actions can have," says Miller.
"There are lots of people hitching their wagons to these ideas, and some of it is 'woke washing'," agrees Coley. "We're all trying to get the attention of the consumers we're trying to impress and any means necessary is often a justification."
At Karma Drinks, the team tries to stay authentic by recognising where "we believe we have something to say," such as climate change or equitable trade, and the "things at the edge of our experience". Their litmus test is to ask themselves: "Does it feel like an honest expression of who we are as a company, as a brand and as a group of products?
"You can't sleep-walk into these things," he adds. "I have been reasonably provocative within our organisation and suggested we do things that have been pushed back on. Or I've gone and done them and got some flak from the team. But you learn pretty quickly."
Part of that lesson includes knowing when to stay quiet, too. "We don't take ourselves so seriously that we bash people over the head with our values and preach to them," says Coley. "We have to realise we're just a fizzy drink. We'd like to think we can save the world but there's a hell of a lot that we can't do."
Fizzy drink or not, though, it's starting a far more interesting dinner table conversation.
Pulling pints, not punches: did Wetherspoons go too far on Brexit?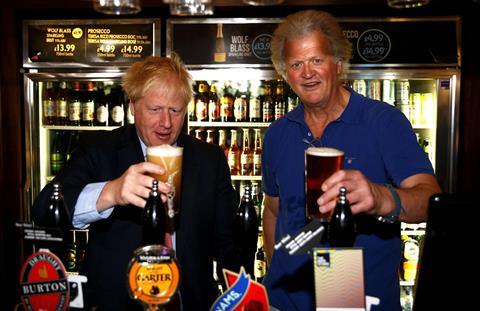 In May 2016, only a few weeks ahead of the EU referendum, pub chain JD Wetherspoon issued a brand new beer mat for its nearly 1,000 UK branches. On it was a letter to remain supporter and IMF boss Christine Lagarde, questioning her trustworthiness amid ongoing governance issues. "Vote Leave – take back control," the mat urged.
The move drew both support and criticism of the pub chain and its openly pro-Brexit boss Tim Martin. Some accused the founder and chairman of "alienating half his customer base". That didn't deter Martin though, who went on to disparage "elite Remainers" and print his own Brexit manifesto on another half a million beer mats a year later.
Five years on, does he regret it? The short answer is no.
"Wetherspoons' position rose from business experience, not politics," says Martin. The business first spoke out on politics when the UK proposed joining the euro. After exiting the European Exchange Rate Mechanism in the 1990s, which "caused a catastrophic recession", he felt strongly. So he and "a motley anti-establishment crew won the argument," says Martin.
It then stayed silent until the EU referendum, but could do so no longer when then prime minster David Cameron claimed to have achieved fundamental reform. "The public were accepting of Wetherspoons' stance," he adds. "Most large companies were overtly pro-EU, but most of the talking was done by the CBI and the FDF."
He rejects the premise too, that other food and drink companies have typically remained apolitical. "Food and drink companies have not been impartial. More than any other industry they attempted to frighten the UK into staying in the EU, and failing that, the customs union. They have been massively pro-remain."
Tony's Chocolonely: how baking politics into your brand can be bittersweet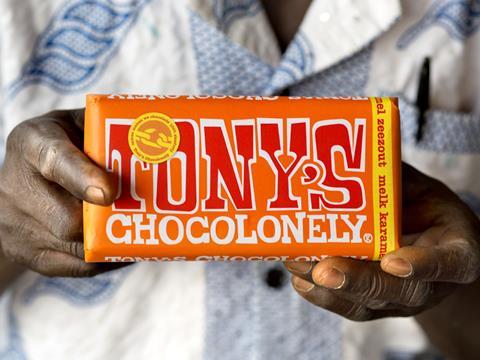 For Dutch brand Tony's Chocolonely, politics and social activism was baked into the first bar of chocolate back in 2005. Started by journalist Teun van de Keuken, he created the brand as an antidote to his discoveries of endemic slavery within the chocolate supply chain. Tony's has positioned itself as a campaigning voice ever since.
Though it doesn't claim to be 'slavery free' (to make such a guarantee wouldn't be possible, it says) it has worked on eradicating modern slavery, and called out other major confectionery brands that fail to do the same. This clarity of purpose – plus "delicious chocolate" – has helped it stand out from the competition, says UK and Ireland country manager Ben Greensmith, making it easier for "consumers to consume consciously".
But customer expectation wasn't what shaped its purpose, he says. "We think businesses have a vital role to play in society and in speaking out for injustice in areas they, their consumers or their employees care about."
By putting itself on a political pedestal, however, the brand has set itself up for closer scrutiny, a fact that became all too clear earlier this month when a national newspaper highlighted how it had been "dropped" from an ethical chocolate list. In reality, that was far more about its association with chocolate brand Barry Callebaut than its own operations, with the brand pointing out it remains accredited by both B Corp and Fairtrade.
"We deliberately source our cocoa from west Africa where issues of illegal labour and modern slavery are most prevalent – so we can change it," says head of impact Paul Schoenmakers, and "we deliberately work with Barry Callebaut to show it is possible to be fully traceable while working with a large processor. If we made our chocolate ourselves, big chocolate companies could disregard our 'Five Sourcing Principles' as it wouldn't be possible for them to adopt at scale."
Nevertheless, the incident serves to highlight the high standards a brand is held to once it speaks out on social or political causes.