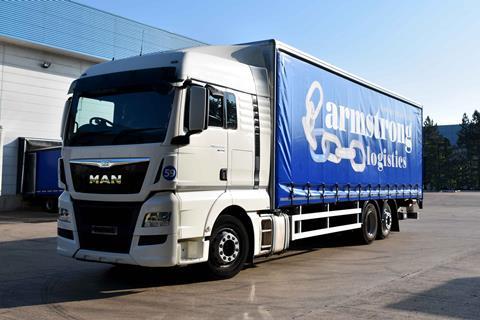 Aldi's long-term logistics partner has launched a dedicated home delivery division and revealed plans to increase its warehouse space by 70%.
Leicestershire-based Armstrong Logistics said the new e-commerce operation would be able to "meet any challenge". The company's chairman and founder Justin Armstrong told The Grocer the division would become "a major part of our business in the future".
"We have the resource in terms of mechanics and systems in place to seize the opportunity which e-commerce offers. We are already achieving some excellent results in terms of efficiency levels and on-time delivery performance and we are confident this will be attractive to customers in the sector," he said.
During the pandemic, Armstrong Logistics has picked, packed and delivered more than 30,000 food parcels for discount retailer Aldi. The parcels contain a set selection of 22 products, including rice and pasta, UHT milk and a number of canned foods, and are aimed at vulnerable customers.
Until the launch of the parcels in April, Aldi's online effort in the UK had been limited to its general merchandise Specialbuys, along with wine, spirits and a small number of ambient products such as coffee pods.
Aldi would not comment on whether the move by Armstrong Logistics signalled a ramping-up of its own e-commerce operation. Neither would Armstrong Logistics.
The logistics firm said a major investment in staff was underway, and that it aimed to double its pallet handling capacity over the next six months.
"The Covid-19 crisis has sparked a retail transformation in the UK. Our investment in our e-commerce offer is a natural evolvement of our business. During the pandemic we demonstrated our ability to handle increased volumes – managing a 300% spike literally overnight whilst still maintaining our unrivalled on-time delivery rate. We see e-commerce as the next stage in our journey," Armstrong said.