Businesses are 'aghast' after a fourth delay to new import checks
Another deadline is to come and go, and still there will be no checks on EU food and drink imports to the UK after a fourth postponement.
Last week Brexit opportunities minister Jacob Rees-Mogg declared that bringing in the regime as planned on 1 July would have been an "act of self-harm" to the UK.
While many food and drink companies welcomed the decision, there is a mounting backlash over the government's actions. Increasingly, companies are asking the question: do ministers have a plan, and will the checks ever be introduced?
Though there was a sense of inevitability over the latest backtrack, after several hints from Westminster, The Grocer understands suppliers were "aghast at the lack of detail" over what will happen next.
"We all wanted to know what the government plan is. We wanted to get the detail," says British Frozen Food Federation CEO Richard Harrow. "But it is apparent there is no plan at all."
Businesses will now have to wait until the autumn for more detailed plans, while Rees-Mogg says the government will be accelerating proposals to "digitise Britain's borders", harnessing new tech and data to reduce friction and costs.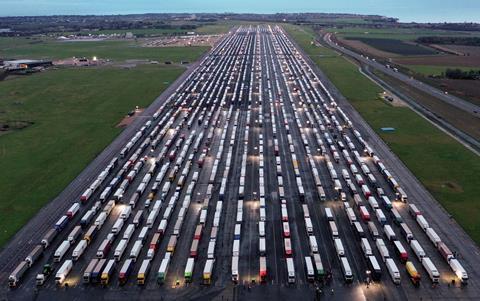 Insiders say there has been a power shift, with the likes of Rees-Mogg and former Brexit negotiator David Frost determined to move away from heavy checks, which they fear will see the worst predictions of Brexit come home to roost.
"It's very clear they want a different regime, less regulation," says a source. "This is Rees-Mogg and Frost winning out over [environment secretary George] Eustice."
But at this week's meeting with Defra, the delay left port authorities demanding to know what they were supposed to do with facilities and staff employed to carry out checks.
The FT reported UK Major Ports Group – which estimates the industry has spent £100m to construct new border facilities, with an additional £200m provided in post-Brexit government grants – is demanding compensation. "This now looks like wasted time, effort and money to develop what we fear will be highly bespoke white elephants," the group said.
Port readiness
While the UK's major ports were ready for the introduction of the checks, smaller ones were not, making a delay "inevitable".
"Stranraer and others down the west coast are not ready, and on the EU side, a lot of smaller EU businesses exporting aren't ready," says a source.
Still, veterinary chiefs have slammed the delay, warning it leaves the UK increasingly open to food safety threats. "If some diseased or poisonous food is waved through, and someone dies, this will all fall into the lap of Jacob Rees-Mogg," says one source.
It is now crucial that the government works with industry to design a "new, modern and innovative border systems" says FDF head of international trade Dominic Goudie. That includes making changes to the way sanitary and phytosanitary (SPS) certification is completed, rewarding trusted traders and making groupage easier.
BRC director for food Andrew Opie, meanwhile, is calling on ministers to come up with a system of controls that will streamline costs and bureaucracy.
While the industry waits, many ask themselves another question. As one source puts it: "If this is what taking back control is all about – making British suppliers pay extra to export while European suppliers pay nothing to get food into this country – heaven help us."