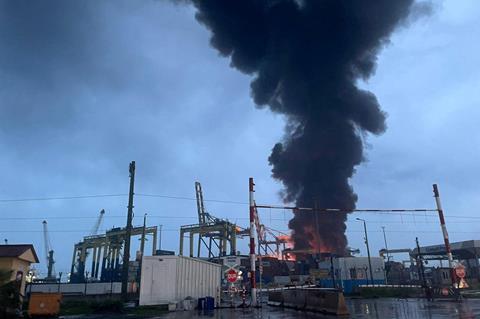 The damage to Turkey and Syria transportation infrastructure caused by last week's earthquake is set to cause further global shipping disruption and drive freight prices up, experts have warned.
The devastating quake that hit southern Turkey on 6 February has damaged roads and bridges, shut down the port of Iskenderun, and caused air cargo congestion at many small airports in the affected region.
Arriving aid shipments at local airports are beginning to "overwhelm handlers", with air cargo congestion "likely" to push freight prices up, international freight marketplace Freightos has warned.
Airfreight backlogs are set to get worse as some airports give priority to rescue teams and limit passenger flights, which typically carry freight too.
Several Turkish airports were already struggling with backlogs caused by snowy weather even before the earthquake.
Rail service in the Gaziantep region is also still heavily disrupted as many roads and bridges across southern Turkey and northern Syria have been damaged.
The Iskenderun port of southern Turkey remains closed after stacks of containers toppled and started a fire when the earthquake hit last week, causing significant damage at the terminal.
The port of Iskenderun is one of Turkey's largest ports in terms of revenue and a key contributor to the country's economy, with an annual trade flow of $18bn last year.
The fire – caused by the initial 7.8 magnitude quake and made worse by a 7.5 magnitude aftershock – and subsequent halting of operations is expected to cost around $680m in trade losses, analysis by the Russell Group showed.
International container shipping company Maersk is currently holding containers meant for Iskenderun in nearby ports and hubs at no extra cost while it sorts out "next steps and final deliveries".
"Our teams are hard at work developing contingency plans involving nearby hubs and additional transportation, with the aim of minimising the overall impact on customers and their supply chains," it said in a statement to customers.
Maersk said the full extent of the damage to the port and affected containers was unknown until a full inspection took place. The roads around the port were also left damaged, affecting truck movements.
Several routes into and out of the region by ocean, air and road are blocked or heavily congested. The Turkish Ministry for Transport recently said over 1,200km of railway lines had been affected by the tremor.
Logistics operators and aid groups have been ramping up urgent relief efforts for victims of the tragedy, but moving supplies through the region's ravaged infrastructure has proven challenging.
Turkish president Recep Tayyip Erdoğan said last week there had been difficulties with the aid response, blaming delays on damaged roads and airports.
He said it was not possible to prepare for a disaster of this magnitude. The earthquake has so far claimed the lives of more than 33,000 people.
Several companies across UK grocery have backed emergency relief efforts for earthquake victims in both Turkey and Syria, including supermarkets such as Tesco and Asda, as well as the convenience and wholesale sector.