With consumers showing increased concern about the environmental dangers of plastics, brands have come up with some inventive new takes on netting, ready meal film and six-pack rings. But it's not only concern for sealife that's driving innovation in the packaging sector – taste, convenience and consumer preferences are proving influential factors, too. From thermals made from surplus feathers to labels that manage to look like how gin tastes, here's a look at what's new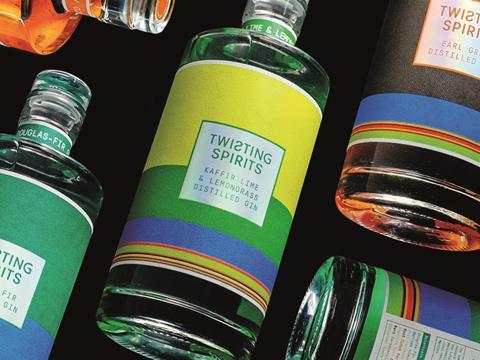 The gin label that tastes exactly how it looks on the bottle
Many booze brands attempt to convey sophistication, gravitas or adventurousness on their lovingly crafted bottles but few claim their labels look and feel just like the spirit tastes. Yet that's exactly what gin brand Twisted Spirits claim to have achieved with their range. With the brand founders described as "IT geeks turned gin geeks" designers Lyon & Lyon matched each ingredient in the spirit with a colour using an online algorithm. Juniper berries became deep blue, almonds an orangey shade of brown and lavender a 'hot purple.' These colours were then used on the labels as vivid bars, with the wider the bar indicative of a larger amount of that ingredient being used.

Designers then printed each individual flavour combination on its own tactile embossed paper "so it feels like it tastes" too with Kaffir Lime & Lemongrass given a citrus skin texture and Earl Grey on buckram, a stiff cloth made of cotton "reminiscent of the aristocracy of the nineteenth century."

The result, they say, is "a stand out product that leaps off the shelf and an innovative design to breathes life back into a market highly saturated in British tradition."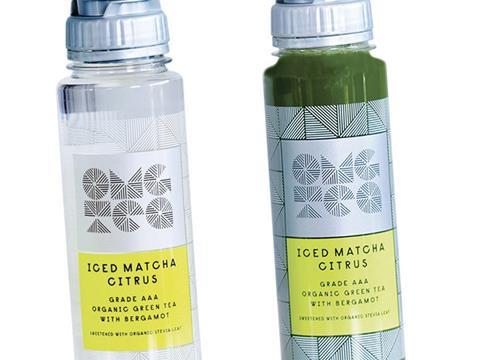 The 'twist, press and shake' on the go tea
In a more sophisticated twist on the Walkers Salt & Shake crisp format, reportedly sold in London pubs as far back as the twenties, this RTD iced Matcha drink from OMGTea uses 'unique twist-cap technology' to keep its two ingredients separate until you're ready to drink

Marketed as the perfect post-exercise pick me up the technology keeps its Matcha powder in a separate dosing compartment away from the purified water. To mix users simply 'twist and press' the lid to release the powder from its compartment before 'shaking' the two into iced Matcha tea. This ensures the Matcha is kept fresh and "retaining all of its nutrients" as well as its "emerald green colour," say the brand.

The RTD format aims to improve on perceptions of Matcha as an inaccessible ingredient, often limited to social influencers with enough time in the morning to whisk up a Matcha latte.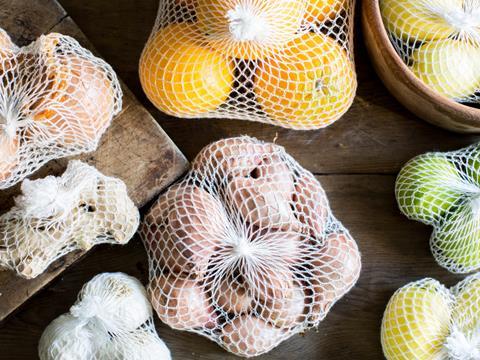 The 'plastic' nets made from pulp
As of late 2017 organic veg box delivery company Riverford ditched the plastic nets they had been using to pack up onions, citrus fruits and sprouts in favour of this compostable alternative made from beech tree pulp. Made by Austrian biogenic packaging company VPZ Verpackungszentrum the nets are made from a natural by-product of the forestry industry.

When trees in sustainable forests grow to a certain height some are thinned out to give the remaining ones space and light to grow. This wood is then chipped and broken down into a pulp, spun into a string-like material and knitted together into a net tube, ready for use by food and drink companies to package fruit and veg.

It's the first time a UK business has made use of the nets, say the company. "As much as people, ourselves included, might wish that we could do without packaging entirely, it plays a huge part in ensuring product quality and enabling distribution through our whole supply chain, "says Riverford packaging technologist Robyn Copley-Wilkins "A net made from wood sounds strange, but actually works beautifully, and is very environmentally friendly."


The device that turns a can into a bottle
It's an old debate, but one that still divides. Does Coca Cola taste better from a glass bottle, or an aluminium can? Well, according to CanCap, research shows 84% of people prefer their fizzy drink from a bottle, but industry continues to favour the can because it's "lighter, they stack well and are cheaper to produce."
CanCap, creators say, is a solution that fits all. Or at least all standard sized cans. Bought by the consumer (for £11.99) the glass top bottle with a plastic seal can be fixed onto a can so "consumers can enjoy the experience of drinking from a bottle, even when only cans are available." It also has a flexible bottle top for resealing the drink so you can save it for later "knowing it won't go flat, as well as keep wasps and bugs out in the summertime" - and you can't say that about your average can.

Its designers say there are opportunities for brands to get involved too by customising the seals with logos and branding "to give their business something fresh to offer customers." Or, in the case of Coca Cola and many soft drinks, attempt to please everyone.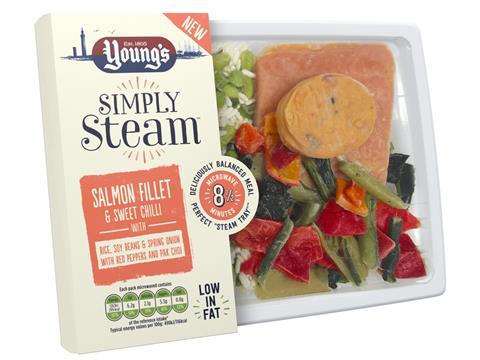 The frozen meal that 'steams' in the microwave
The frozen aisle has always suffered from a less than glamourous reputation compared to rivals in the chillers. But it's always won shoppers over on convenience, with long shelf life products that can sit in the freezer for months until they're needed. And with its new Simply Steam meals, released in September, Young's Seafood say they can add speed and quality into the mix thanks to a packaging format they claim is a 'first for frozen.'
The 'Perfect Steam Tray' vacuum seals fish and veggies under a completely transparent film that can be taken right out of the freezer and microwaved. Once cooked the patented tray and film combine to steam cook the ingredients.

"We've looked at the common barriers in frozen meals, such as concerns over quality, taste and visibility in packaging, and with Simply Steam consumers see exactly what they get," says Yvonne Adam, marketing director at Young's.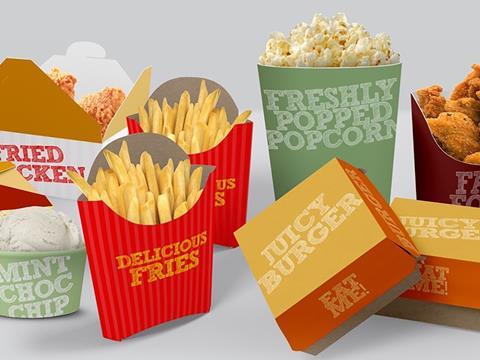 The zero plastic sustainable barrier
With even outwardly sustainable packaging in food and drink often relying on protective layers of plastic the demand for alternatives is on the rise. Delipac say they've created one such alternative, with a 'zero plastic sustainable barrier packaging that is '100% recyclable, biodegradable and compostable' and applications across fast food, frozen foods, ready meals or even airline food - all which rely on thin layers of plastic for food safety and hygiene.
"There is a global drive to eliminate as much plastic as we can from our lives and one of the biggest issues at the moment is the application of packaging for single-use food and drink products," explained Paul Spring, CEO of Delipac. "This is where our innovation comes into its own.

"Delipac can be recycled without having to employ specialist plants, it biodegrades between 12 and 25 weeks when in landfill and is naturally compostable.

"It has taken us seven years to develop and prove the performance. Initial market interest has been significant, especially with mainstream brands keen to do their bit by taking plastic out of their packaging." In fact, the 'robust grease and moisture barrier' is 'already being assessed by a number of supermarkets and one of the world's largest takeaway chains.'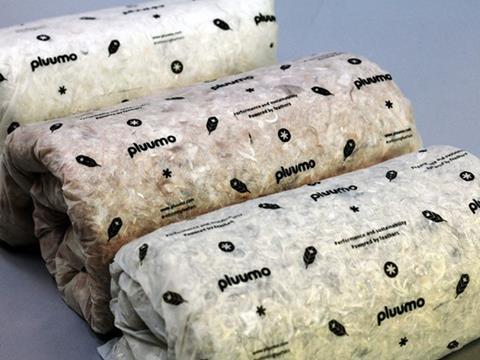 The surplus feather thermals
Be it stuffed down the sides of recipe delivery boxes to keep food edible on doorsteps or wrapped round meat and dairy to keep products fresh, thermal packaging materials are a staple of the grocery supply chain. Often made from non-renewable resources such as polystyrene though they don't tend to tick the box on sustainability.
London-based start-up Aeropowder are hoping to change that with their new material pluumo - a thermal packaging material manufactured using surplus feathers, a by-product of industry. "Pluumo has been designed specifically to be used as a replacement for expanded polystyrene, and because of that it is intended for use by recipe box companies, meat and dairy delivery services as well as generally any industry that needs to keep their deliveries chilled during transport but want to avoid using traditional synthetic thermal packaging material," says co-founder Ryan Robinson.

The surplus feathers are cleaned and processed into a' unique textile' before being covered in a biodegradable film for ease of handling, a kind of starch used in some compostable bags, adds Robinson. Launched in July, with the support of Innovate UK, the packing has secured its first customer, a butcher in Oxford, and says it is 'also in discussions with potential distributors who supply to the food industry, who can see the potential of the product.'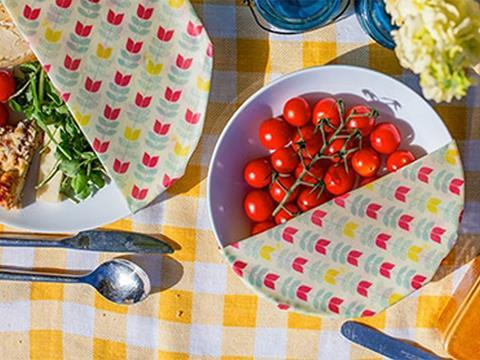 The beeswax food wrap
Launched in late 2017, in the kitchen of entrepreneur Kath Austin, BeeBee Wraps offer an alternative eco-friendly wrap for food using wisdom that's centuries old. The colourful wraps are made from beeswax-coated cotton and can be used around cheeses, to cover up whole bowls of leftovers or turned into a pouch to extend the shelf life of any type of food. The wraps are made from organic cotton, local beeswax, natural tree resin and organic jojoba oil, all of which will break down on a compost heap.
Until recently, the production of the material has been limited though, with one day's worth of the material taking up to seven and a half hours to produce by the small team. Last month though the start-up announced a partnership with tech experts Cambridge Consultants that is set to speed that process up allowing the packaging entrepreneurs to expand the business rapidly.

Using a 'sustainability-led mechanical design and process improvement expertise' the specialists put together a bespoke manufacturing unit for the brand that speeds production up by 30 times, with the same volume now ready in 15 minutes and means "we hit the ground running," says Austin.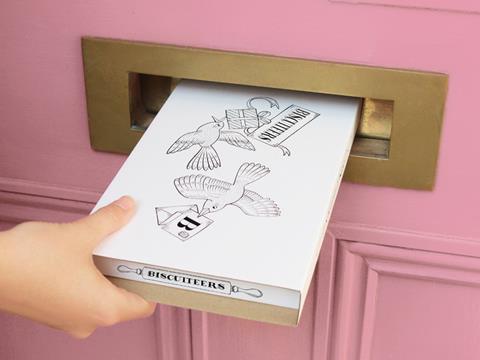 The biscuits that fit through your letterbox
The challenges rife in delivery are well known. If it isn't retailers justifying additional charges to drop round groceries then it's stories of inconsiderate delivery drivers, inappropriate substitutions or grocers committing to tighter and tighter turnarounds, to their peril. And an oldie but a goodie within that list of complaints is the note left on your doormat when it's too big to fit through the letterbox.

It's something that an increasing number of monthly subscription services have cottoned onto, most commonly in the beauty and flower markets, but rarely fmcg. In August though retailer Biscuiteers extended it to their offer of luxury biscuits, overhauling one of their most popular collections packaging to ensure it could fit right through the letterbox, while also ensuring the fragile contents remained intact.

The innovation, with 17 letterbox-sized SKUs launched in 2018 alone, responded to the increasing popularity of its gifting items, say the retailer, alongside this increasing demand for conveniently delivered products. Founder Harriet Hastings says, "the way in which we are gifting is evolving as we lead ever busier lives. Our customers are requesting more convenient gifting options and therefore our clearly signposted web channels make it easy to purchase a letterbox sized gift from the comfort of their sofa."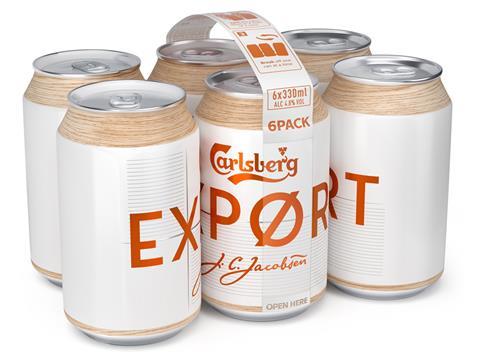 The 'snap pack' beer
Shots of sealife trapped in sharp plastic six-pack rings are some of the most striking of the anti-plastic movement. To combat that Carlsberg launched an alternative in September, replacing bulky plastic rings with near invisible bonds instead for its Carlsberg Export cans. The innovation ditches rings and instead uses small pieces of a specially developed glue applied in small dots to hold the cans together. These are robust enough to stand up to handling to and from store, say the brand, but can be easily snapped apart when required.

This initiative alone could cut the group's plastic usage by more than 1,200 tonnes each year, it claims, once a rollout across all 11 markets is complete. "We recognised the need to reinvigorate and drive value back into Carlsberg Export alongside the wider premium lager category, whilst re-engaging with consumers in a more relevant way and we're delighted with the response we've had so far," says Alistair Gaunt, vice president of nationals' sales business unit at Carlsberg UK. "The new Snap Pack is revolutionary new way of responsibly packaging Carlsberg Export - and we know that sustainability is as much a priority for retailers as it is for us, and of course shoppers."