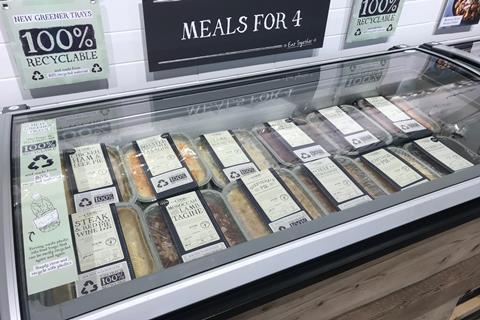 Frozen food retailer and manufacturer Cook has introduced its first 100% recyclable plastic food tray in a two-store summer-long trial.
The Kent-based business is trialling the new packaging on its four-person sized meals in its Tunbridge Wells and Sevenoaks stores.

The new trays, developed by packaging company Faerch, are made from 85% post-consumer recycled plastic - for example water bottles and food packaging.

The remaining 15% is a clear virgin plastic that is required for food safety requirements.

Cook believes it is the first food manufacturer to trial this material, which is 100% recyclable with plastics at home, creating as near to a 'closed loop' as possible.

The colour of the new trays could vary between shades of blue and green depending on what that particular batch was recycled from, such as green milk bottle caps, said Cook. They are currently in two different shades of green.

During the trial, Cook will be monitoring sales, though the retailer said initial feedback from customers had been positive.

Cook took its first steps towards reducing single-use plastic last year. In November it switched its children's range into cardboard trays and has since extended this to its pies for one and side dishes.

Cook said its customers were supportive of its moves to reduce plastic. Its recent customer survey, which received 16,000 responses, found 90% of shoppers said using less plastic always or sometimes influenced their food shopping decisions.

"The sense of urgency to address this issue has been growing and we have looked at endless options over the last year but this feels like the very closest to a closed loop solution available and we are proud to be pioneering it with our customers," said Cook co-founder Edward Perry.