Nestlé and Jacobs Douwe Egberts created Podback to save Britain's 1.2 billion coffee pods from landfill. It's an expensive exercise, but with all businesses soon to bear the brunt of recycling, is it a model for the future?
Blame George Clooney and his decade-long Nespresso campaign. Or the growing desire for barista-quality coffee while sat in your trackies on the sofa. Or the rise in working from home since the start of the pandemic.
Whatever the reason, Brits are drinking an awful lot of coffee at home – and coffee pods are often the preferred choice. Last year, the UK used 1.2 billion pods, according to NielsenIQ – up 32% on pre-Covid levels. At least one in three Brits now own a pod machine.
All this comes at an environmental cost. The small size of the aluminium and plastic pods mean local councils typically struggle to recycle them. Consequently, almost 350,000 a year end up in landfill, according to a recent study by Packaging Online.
It's an issue coffee brands like Nespresso had been trying to solve for years through their own recycling schemes, with limited success. Recycling rates languished at around 25% amid lacklustre consumer awareness and take-up.
The answer, they realised, was Podback – the UK's first cross-industry recycling scheme for coffee pods, launched by rival coffee giants Nestlé and Jacobs Douwe Egberts in April 2021.
The joint effort served to highlight the importance of the issue. As the companies themselves acknowledged in 2020, it's not often competing brands come together to seek a common solution. "Our businesses are far more used to competing for share of the UK's coffee pod market than collaborating with one another," they wrote in The Grocer at the time.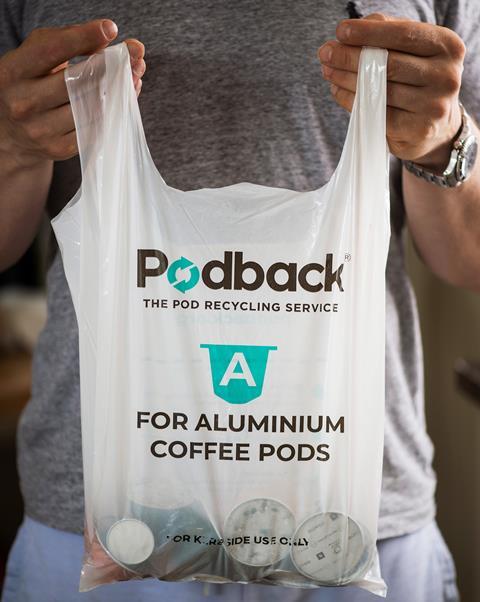 "But today," they continued, "we are united by a common purpose: to make a meaningful change to reduce the environmental impact of our products."
Podback seeks to make this meaningful change by funding local councils to offer kerbside recycling for coffee pods. These collections feed into a segregated recycling process that saves the pods from landfill or incineration (see gallery, below).
Instead, aluminium pods are melted down and turned into items like aluminium cans, while the plastic pods are transformed into long-life products like building pipes and plastic sink bowls. The coffee, meanwhile, is sent to an anaerobic digester, where it is used to generate energy.
Podback is still young and operating in just seven English councils. But with major new packaging rules coming down the line, it's an initiative that could have implications well beyond the coffee industry.
In fact, Podback MD Rick Hindley believes it is "pioneering" a path for how the entire food and packaging industry could recycle in the years to come, as the weight of responsibility shifts to suppliers.
The Podback process in seven stages
Keeping it simple
In some ways, Podback is nothing new. Many of the major coffee brands, like Nespresso and Tassimo, have been operating their own recycling schemes for years.
What makes Podback unique is that it's integrated into kerbside collection – and it's entirely self-funded. So far at least, it seems to be working.
In early 2018, Nestle approached JDE with the idea to collaborate, following kerbside trials for their Nespresso and Nescafé Dolce Gusto brands. Coincidentally, JDE had itself recently begun running its own kerbside collection trials.
Nespresso and JDE knew the scheme would only work if it was simple and easy for consumers to use. That's why the scheme is open to all brands selling pods – Tassimo, Starbucks, and L'Or are among those to have signed up – and is based around kerbside collection. That's unlike previous schemes, which relied on people taking their waste to local drop-off points.
View this post on Instagram
"All along the absolute belief has been we need to make it as simple as possible for consumers," says Alex Hetherington, head of enterprise at 3Keel, who was heavily involved with the scheme's inception and design. "And the simplest possible way to that is to enable somebody to do it the same way they do the rest of their recycling, which is kerbside."
That's not to say Podback ignores drop-off points completely. Much like similar alternative recycling schemes like TerraCycle, thousands of Yodel locations are available to any Podback user to return their pods.
But customer demand for kerbside collection is clear: 90% of people want to recycle their coffee pods in the same way as other household waste, according to YouGov polling. It suggests that unless you let people drop their rubbish outside the front door, it's going to be very difficult to get it back.
"One of the absolute keys to getting things recycled is making sure things get to the right place, which relies on finding an effective way to collect it," says Hetherington. "So there are lots of industries and sectors that could utilise this model to make sure they get that collection."
Hefty investment
It's not easy, though. Setting up the scheme in each local council requires significant investment.
Podback covers all the costs incurred by local councils – whether that be their initial investment, operations or marketing spend. It develops a unique business case for each one to understand in detail what changes are needed, and the costs they will incur for collecting pods.
How much of a financial burden this puts on Podback, Hindley can't say. In Nestlé and JDE, Podback is funded by two market competitors, so he is bound by strict terms of commercial confidentiality. The company's financial accounts for 2021, however, show liabilities of almost £3m.
This month, Podback will roll out kerbside collection in Wolverhampton – its most ambitious location to date, including over 103,000 households eligible for the collection service. With a total of 398 councils across the UK, the financial burden on Nestlé and JDE is only heading in one direction.
However, that investment has proven necessary in getting local authorities to adopt the project. That it is cost neutral for councils has been a crucial point in its favour, says Karen Watson, environmental partnerships manager at Cheltenham Borough Council – the first to join the scheme.
The team initially started off "scratching our heads thinking 'how on earth do we go about collecting them," Watson says, but by working with Podback and sustainability consultants Eunomia, it has found a relatively low cost way to do so.
Quite simply, the Podback collection just happens as part of the council's fortnightly recycling collection, using vehicles with segregated compartments to separate the different materials, including coffee pods, on the street.
It is by no means a one-size-fits-all-model, though. Chichester, for example, now employs a separate vehicle to collect the coffee pods, driving around behind the main recycling truck.
The efforts are undeniably commendable. Yet critics have identified an obvious environmental flaw of Podback. It goes along the lines of 'if you want to cut the amount of packaging waste, use less packaging'.
Or as David Newman, MD of the Bio-Based and Biodegradable Association, candidly puts it: "In the real world, if you actually wanted to be a resource-conscious and environment-conscious business, you would just stop using plastic or aluminium capsules to make a cup of coffee."
It's understandable given the scale of the problem. A total of 1.2 billion pods were used in the UK last year. Cheltenham Council managed to collect 1.5 million pods in that timeframe under Podback. Yet even if that scale was expanded overnight to every council across the UK, it would still only account for half the number of pods actually used.
Take-up of the scheme will likely grow as awareness of it increases, but questions are understandably being asked about its true impact.
"I don't want to be a critic of the system, because doing anything is better than doing nothing," points out Newman. "I'm just asking the question: what sort of impact is it going to make? Currently, it's not very much."
A future template?
In some ways, though, the impact of this individual scheme isn't the real question.
Coffee pods are, after all, just coffee pods. A drop in the ocean against the scale of the UK's packaging problem. Even if Podback was able to collect every single one of the 1.2 billion pods used in the UK last year, the mounds of plastic waste from UK homes would continue to mount.
It's in this wider context that Podback could make a real difference. Its model is already being rolled out across several councils to be used for other hard-to-recycle items like small electric goods and batteries.
And it is an even more interesting project in light of the UK's upcoming extended producer responsibility (EPR) rules, which will force businesses to pay to clean up and/or recycle every piece of packaging in their products from 2024.
Both the food and packaging industries are fighting tooth and nail to make sure this doesn't happen, citing the cost of living crisis as a justification to press for further delays.
Yet Podback offers a tantalising glimpse at how the future may look under the regulations, which will shift the cost burden away from local councils to the businesses themselves.
"Our local authority partners see it as dipping their toe in the water for what's coming down the line"
Hindley says Podback proves EPR can work in practice. "Businesses producing other materials need to look at what Podback does because if they don't, their product won't have a future in the UK," he says.
"What we've done is become a pioneer of the changes that are coming for packaging with the EPR system. We have taken on the responsibility of setting up a collection system, and bearing the costs incurred by local authorities in collecting pods," Hindley adds. "Our local authority partners see it as dipping their toe in the water for what's coming down the line."
Watson of Cheltenham Borough Council makes a similar point. "As local authorities, we're all wary that EPR doesn't cost us, and yes, this demonstrates that EPR can really work," she sums up.
Sure, it's perhaps a workaround rather than an end goal. The hope is the funding generated from EPR will prompt wholesale changes in the recycling system, and sorting machines will be upgraded to ensure small items such coffee pods do not, quite literally, slip through the cracks.
Podback is also keen to build on its current model, and it's already working with its recycling plants to ensure its plastic pods can be turned back into food-grade material.
So yes, the drum should arguably still be sounded for cutting plastic use all round. But in the meantime, we also need better ways to deal with the problem we've got.
And Podback certainly provides some food for thought as the industry gets set to assume greater responsibility for the waste it produces.