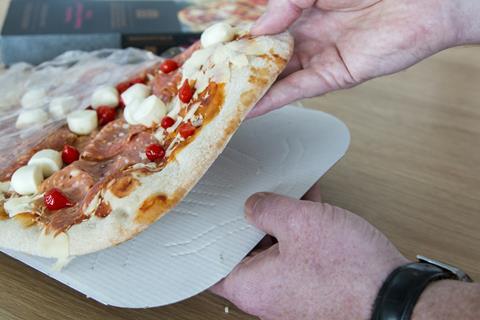 Unrecyclable plastics are disappearing from UK supermarket shelves thanks to a 'huge array' of initiatives from food and drink companies, a landmark report has claimed today.

A year after the launch of the UK Plastics Pact, retailers and suppliers have given an update on progress in a new Wrap report. It contains 44 examples of how companies have started to remove plastic or make packaging more recyclable. The report cited Sainsbury's, Tesco, Waitrose and M&S trialling the removal of plastic packaging across a number of lines, in a bid to understand where plastic can be removed without affecting food waste.

It also flagged up the work carried out by Morrisons, which yesterday announced the permanent launch of plastic-free fruit & veg areas at 60 stores.

The update said Tesco, Asda and Aldi combined had saved almost 700 tonnes of non-recyclable polystyrene pizza bases by introducing cardboard alternatives in the past year. Members had reported 'widespread progress' on removing unrecyclable black plastic from their packaging. M&S phased out 1,700 tonnes of black plastic packaging, Lidl has removed all black plastic packaging from primary fruit & vegetable packaging, and Ocado had removed it from 83 product lines, it said.

Wrap claimed the examples used 'represent a small selection of the large number of initiatives currently underway in this sector'.

Membership of the pact has grown from 42 business members at launch to 76. By 2025 it aims to eliminate problematic or unnecessary single-use plastic packaging through redesign, innovation or alternative (re-use) delivery models, make 100% of plastic packaging reusable, recyclable or compostable, for 70% of plastic packaging to be effectively recycled or composted and 30% average recycled content across all plastic packaging.

Today's report also included updates on a raft of activity by suppliers, including Coca-Cola's introduction of a 'Please Recycle Me' message on over 500 million of its bottle tops each year, and Britvic's inclusion of a 'Please Recycle' message on its recent Robinsons Fruit Creations TV advert.

On the supplier side, the report highlighted Walkers Crisps launching the UK's first nationwide crisp packet recycling scheme, which had already collected 2.4 million packets. Meanwhile, Danone reported that all Evian 75cl, one-litre and 1.5-litre bottles produced for the UK market now contained 50% recycled content and Innocent smashed its target of a minimum of 30% recycled content in its smoothies bottles, with bottles now containing 50%.

However, Wrap CEO Marcus Gover said "tough decisions" lay ahead of companies if they were to hit the pact's targets.

"When we launched The UK Plastics Pact a year ago, we knew that we had a monumental task on our hands," he said.

"So I'm delighted to celebrate the first anniversary of the pact by revealing the huge array of initiatives members have been working on over the past year.

"The first year was about building solid foundations and setting a clear direction of travel for collaborative change. Moving forward there will be tough decisions to make, new innovations to foster, and investment to be made - all at great pace and with an urgency that reflects the scale of the problem we are tackling. Our members have shown they are up for the challenge and we have great momentum to propel us forward. I'm convinced we are on the way to transforming forever the way we make, use and dispose of plastic."

Meanwhile, campaigners called on the industry to step up the pace of change.

"Plastic pollution is at such a crisis point now that we really need to see major brands and supermarket chains taking giant strides, not fairy steps," said Sian Sutherland, co-founder of A Plastic Planet.