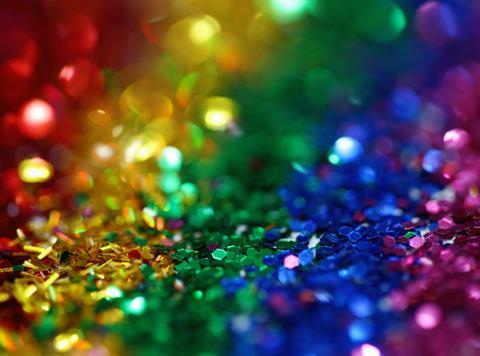 For all its sparkle, Christmas has a dark side. It's called glitter. And it's more evil than you might imagine.
That's why Waitrose has committed to removing it from all its own-label products by 2020. Because glitter is a form of microplastic – those teeny pieces of plastic with the potential to do big damage to the environment.
Three quarters of Waitrose's own-label cards, gift wraps, crackers and tags are already glitter-free this Yuletide, while the packaging of half of its flowers and plants comes without the twinkly menace.
The retailer's decision to say bye-bye to glitter could not be more timely given the festive season. It also gives the year symmetry insomuch as 2018 began with the UK's ban on microbeads coming into force – with the government hailing "a landmark step in the introduction of one of the world's toughest bans on these harmful pieces of plastic".
Will ministers then step up in 2019 to clampdown on glitter – usually a mixture of PET and aluminium? Quite possibly. It's hardly a massive step from plastic straws, stirrers and cotton buds – and environment secretary Michael Gove seems genuinely committed to fighting the plastic scourge, which he previously warned was putting marine wildlife "under serious threat".
In spite of Waitrose highlighting the glitter menace this week, it's far from a new concern among those in the know. In November 2017, for instance, Richard Thompson, a professor at the University of Plymouth, raised the alarm as part of a report on the global environmental impact of microplastics.
The plastic sparkly stuff's main problem is its ubiquity across many categories – especially in cosmetics but even in sex care – combined with an attractiveness and smallness that makes it seem anything but insidious.
But insidious it is. So, what are the alternatives? Well, Waitrose plans to "find other ways to make sure our products sparkle at Christmas and throughout the year". That includes, rather cannily, using more vibrant foliage in its cut flowers.
There's also biodegradable glitter to consider. Marks & Spencer, for example, looks likely to introduce a version as soon as next month across its fresh flowers and plants, The Guardian reports. The details haven't been revealed, but perhaps the M&S solution is Bioglitter. It's made from eucalyptus tree extract and aluminium, and promises to biodegrade in as little as a few weeks.
It's the sort of solution that could retain the sparkle, but without the harm. As Dr Chris Flower, the Cosmetic Toiletry & Perfumery Association's director-general has said, while the "total effect of giving up traditional glitter might not be great in comparison with other harmful plastics, we should still do everything we can".