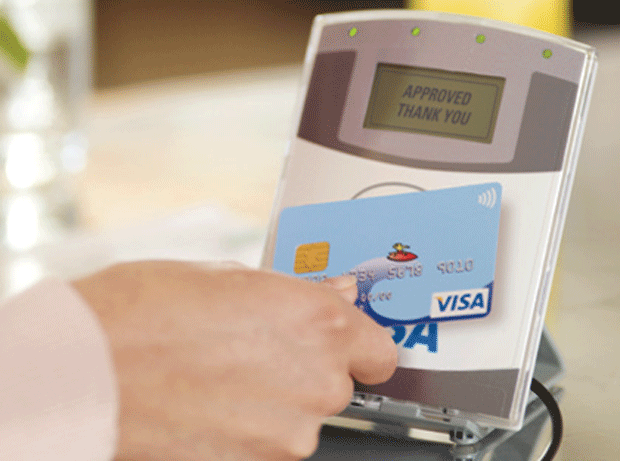 Contactless is booming.
Shoppers spent £9.27bn on a total of 1.1 billion contactless payments in the first half of this year, overtaking the £7.75bn spent last year in total.
UK Cards Association data shows in June this year, 18% of card purchases were made using a contactless reader, up from 7% a year ago.
So how can retailers make the most of this?
Contactless payment is all about speed and convenience – and shoppers are increasingly valuing both.
"Contactless cards are firmly entrenched as the preferred way to pay for millions of consumers who expect to be able to use them for everyday purchases," says Richard Koch, head of policy at UK Cards.
Investing in the infrastructure needed to offer contactless payment, however, can be costly. But it's worth it, says Tobias Schreyer, co-founder and chief commercial officer of payment company PPRO Group.
"It offers the customer a swift and simple transaction and enables staff to serve their customers quicker."
The potential cost to retailers of being left behind in the technology stakes is huge, experts agree – especially as shoppers become increasingly used to the flexibility of buying online. Bricks and mortar stores have to match up.
"From contactless buses to Waitrose's first cashless store, the growing popularity of tap and go is a trend that retailers will need to embrace or risk losing relevance," says James Frost, chief marketing and commercial officer at payments company Worldpay.
Indeed, a new survey from Worldpay suggests businesses that do not keep up with the latest payment technology are likely to struggle, with one third of consumers believing cash will become obsolete by 2020 [Wordpay Consumer Behaviour and Payments Report June 2016].
You'd perhaps expect a payments company to be rather bullish about new payments technology, but others agree retailers have to act now. Sainsbury's current lack of contactless options, for example, is "beginning to reflect badly on the brand," warns Geoffrey Barraclough, head of propositions at payment technology company EVO.
Even those retailers that have already made the jump to contactless can make further improvements. In the self-checkout at Tesco and WH Smith stores, for example, consumers have to select 'pay with contactless'. Barraclough believes that option should already be ready and waiting for customers by default.
"There are quite a lot of wrinkles in the system," he says. "When it's implemented in many retailers it's still sub-optimal – particularly at those that went first and haven't changed their processes."
And the next evolution is already on the cards, so to speak. UK Cards only expects the use of contactless to grow, and with apps like Apple and Android Pay and Tesco's PayQwiq, the expectation is contactless will soon move cardless.
"It would be surprising 10 years from now if we were still paying by card," says Barraclough.
In the meantime, however, the way forward for contactless may well be payment apps – but with incentives.
When Oyster first launched, TfL had to raise Tube prices to incentivise people to switch over. There's a lesson in there for retailers, many commentators believe. To really drive adoption, they should make their apps a place where consumers need to go to get the very best value.