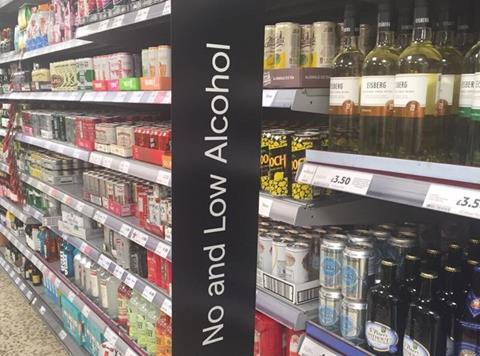 Tesco has revealed the details of its "exciting, new and innovative" attempt to target people interested in buying no or very low alcohol in store.

The supermarket has become the first to bring together its entire range of no and low alcohol in one place in stores across the UK.

The move comes as industry figures show Brits are drinking less alcohol than they did a decade ago.

Tesco said customers would be able to choose from a range of about 30 beers, wines and ciders, which are either entirely alcohol-free, or less than 0.5% abv.

The new zones offer shoppers a choice of selection of red, white, sparkling and fruit-based wines, and will place some local craft beer lines alongside established beer brands.

According to figures by the British Beer & Pub Association (BBPA), alcohol consumption is on a downward trend, and is now 18% lower than a decade ago.

A further report by Nielsen Scantrack has found that increasingly for young people, healthy is the new rich. Seventy-seven per cent of UK millennials stated that being physically and mentally healthy would help them live a happier, more fulfilled life.

'We're seeing a growing number of customers who enjoy the social aspect of having a drink, but want the option to choose a quality wine or beer, without consuming alcohol," said Tesco director of beer, wines and spirits Gavin Warburton.

"We've added a number of exciting new and innovative brands to complement the familiar staples in our range. So with a fruit-based sparkling wine, craft beer pub favourites and a bold cabernet sauvignon, I'm confident that we have a guilt-free range that will suit all tastes and ages."

Tesco said prices for drinks in the zones would range from £1 for bottles of cider, up to £5 for bottles of wine.