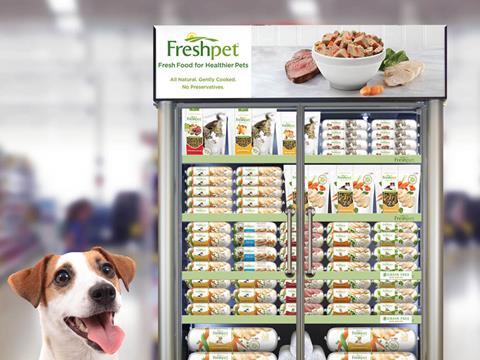 Tesco is rolling out branded petfood chillers to 300 of its UK stores following a successful trial with US supplier Freshpet.
The pilot began in a "handful" of stores in Norfolk and Suffolk, and was later expanded to 50 outlets across the UK following a "promising" response to the brand's British debut, offering healthier, meat-rich meals for dogs and cats priced from £3 to £13.50. It will now be extended nationwide.
Fresh petfood was a "completely new concept" in this country, said Tesco pet category buying manager Paul Jones. "We know it's the right thing for us to offer our customers, who are increasingly looking for better quality, less processed, natural petfood choices."
Each branded chiller is being fitted in place of a standard ambient bay – bringing "theatre" to the Tesco pet aisle, according to Freshpet co-founder and European MD Cathal Walsh. "The fridge is part of our packaging."
Freshpet was founded in 2006 "with a single-minded mission to bring the power of real, fresh food to dogs and cats". Its preservative-free products – currently available in about 16,000 North American stores – are made in a $65m facility in Bethlehem, Pennsylvania, which will supply the UK with 12 SKUs, eight for dogs and four for cats, with a fridge life of seven days once opened.
Walsh praised Tesco for its "strategic vision" in listing the US brand, saying the launch of a new category was "a fairly risky proposition", but it would add incremental value as pet ­owners traded up.
Freshpet is also trialling in 13 Asda stores.