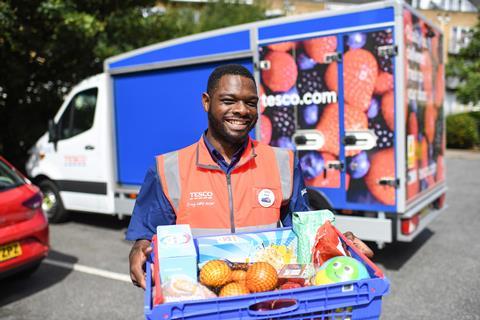 Tesco has picked up the coveted title of Grocer of the Year at this year's Grocer Gold Awards, to complete its remarkable business turnaround in triumphant fashion.
The award comes after the UK's biggest retailer said goodbye to CEO Dave Lewis, who led the grocer back from the brink in 2014, when it was rocked by a financial crisis.
The judges were impressed with its relentless focus on customers and back-to-basics approach, which saw Tesco win back the loyalty and even the affection of customers, with a focus on value for money and loyalty.
Crucially there was also a return for shareholders, with Tesco meeting its target to reach a 3.5%-4% margin six months ahead of schedule.
The award caps a magnificent week for Tesco, which also won the battle of lockdown to be crowned Britain's Favourite Supermarket 2020, following its response to the coronavirus pandemic.
A panel of more than 5,000 shoppers found Tesco had responded better than any of its rival to the crisis, while improvements in the quality of its fresh food operation also put it ahead of the field in areas non-Covid.
Things looked very different when former Unilever boss Lewis was parachuted in as CEO in 2014, as the supermarket faced what was then its biggest-ever crisis.
Mired in controversy due to an overstatement of profits, with supplier relations at an all-time low and floundering under competition from the discounters, its brand was seriously damaged, as was customer loyalty.
Completed turnaround
But last year saw Lewis declare Tesco's turnaround complete, and having outlined the path for the next five-year plan, he announced he was stepping down.
The judges commented on the success of Tesco's range overhaul, including a reboot of its value offer, which saw more than 400 'Exclusively at Tesco' priced consistently cheaper than or matching the next most competitive retailer in the markets.
Tesco also carried out a radical makeover of the Tesco Clubcard, which has once again become a key weapon against the discounters and other supermarkets.
Last May, it launched the first trial of Clubcard Prices, the first time a major supermarket had offered its loyalty cardholders cheaper prices at the checkouts. This summer the scheme was rolled out across hundreds of brands as well as own-label products.
Collecting the award, Tesco UK and Ireland CEO Jason Tarry said he believed the entire supermarket industry had "stood up amazingly well" to the challenges thrown down by Covid.
"As a result, the public perception of us as an industry is different," he said. "We've done an amazing job through the Covid pandemic and we did our bit.
"Tesco has shown it's at its best when it's up against it.
"We obviously had a good platform, with more than 3,000 stores and our online operations and the ability to scale up to adapt but at the heart of that was our colleagues.
"They have put our values into action and got on with it".