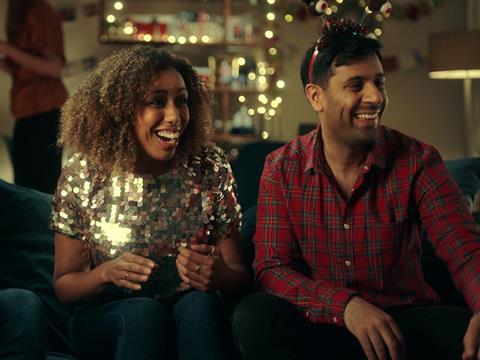 The Co-op will launch its light-hearted Christmas advertising campaign illustrating how food brings people together tomorrow (1 December).

The society has unveiled its 2018 ad that puts its own label food in the spotlight with the tagline 'Christmas is better together.'

The ad centres on a group of friends discussing when the festive season starts for them, while eating Co-op own label products. The friends then talk about what films they think are synonymous with Christmas, which leads to a friendly debate over which are and which are not Christmas films in their view.

The 30-second TV and social media advert, created by Forever Beta, will appear during The X Factor Final, I'm a Celebrity Get Me Out Of Here and Gogglebox over the weekend. It will be accompanied by two 10-second versions for both static and digital out-of-home advertising.

The Co-op's Local Community Fund forms part of the campaign, with £19m to be donated to 4,000 local causes to bring communities together.
A poll it conducted found 61% of shoppers want to see marketing budgets scaled back in the run-up to Christmas in favour of giving more back to local communities, and 86% think brands spend too much on their festive campaigns.

Although it would not disclose its marketing budget this year, the society has opted to use actors rather than celebrities in its ad.
"Christmas is the best time of year to be close to your family and friends," said the Co-op's customer director Ali Jones. "We aim to offer our customers and members the products that they care about and need from locations which are close to where they live.

"Giving back to communities is the best Christmas gift we can offer and what feels better than picking up your festive treats knowing that it's helping those in need across the country?"

The society has also partnered with on-demand cinema platform Our Screen to offer up to 10,000 free seats for customers to watch festive films at cinemas across the country. The tickets can be won through Co-op's social media channels from next week.