This article is part of The Dairymen - our annual guide to the dairy industry that's packed with insight and analysis on all the latest trends. To read the report, subscribe here.
Overhauling your business model is rarely a snap decision. But the advent of lockdown meant dairy businesses didn't have the luxury of time. Their long-standing channel mix changed, quite literally, overnight.
In retail, dairy was being cleared off the shelves. Cheese sales soared more than 10% in value and volume over the full year [Kantar 52 w/e 12 July], driven heavily by the movement of 170 million out-of-home lunches back into homes. Meanwhile, the home baking boom pushed up value sales of butter and other yellow fats by 10.2%.
At the same time, the foodservice supply chain ground to a near halt. AHDB estimates the disruption led to an estimated eight million fewer litres of milk being sold each week.
For large dairy suppliers, mitigating revenue losses was a relatively simple matter of convincing retailers to take extra supply. For smaller dairy businesses with less sway over the mults, however, survival depended on swift contingency plans.
As such, direct-to-consumer operations – a relatively untested route to market for many dairy suppliers – have proven critical. For some, it was their only option at the height of lockdown.
So, how did they do it? Did DTC make up for lost sales from restaurants and the like? And is e-commerce a temporary fix or a lasting proposition?
During lockdown, the business case behind DTC was compelling. Online demand for all groceries soared to unprecedented levels, leaving the major mults struggling to cobble together enough slots. Dairy was no exception. In the 12 weeks to mid-July, online spend on dairy grew 71% on the previous year to £365m [Kantar].
"The obvious thing was to throw everything at online"
The major mults, of course, enjoyed the lion's share of that figure. However, there were also benefits for smaller dairy suppliers that quickly pivoted their operations. One such business is the Cheddar Gorge Cheese Company. Creating a DTC service earlier this year "was a matter of survival", claims MD John Spencer.
The company already had a website, but it accounted for very few sales. "It was a small part of the business," he says. "It was good at Christmas, but the rest of the year it wasn't top of the list of priorities."
Suddenly, lockdown forced the temporary closure of Cheddar Gorge's shop and many of the companies it supplied. Its first reaction was to stop cheese production in an effort to protect cashflow. "We then said, where do we go from here?" Spencer says. "The obvious thing was to throw everything at online."
Cheddar Gorge began offering 'isolation bundles' online, alongside gift packs of crackers, chutney and various cheeses. The physical store was turned into a picking site, and marketing was ratcheted up. Soon, Cheddar Gorge was selling in a day what it normally sold in a month on its web shop.
To match demand, the picking operation expanded into its visitors' centre, and production of cave-matured cheese restarted. While online sales didn't cover overall losses from foodservice, "they provided an income", Spencer says.
The milk round
Of course, not everyone in dairy is new to DTC. Milk was, essentially, the original star of the model. By the early 1970s, practically all UK households got milk to their doorstep. But by the 1990s, the figure had dwindled to 3%, according to Dairy UK. In recent years, the milk round has been coming back. And the pandemic has boosted the channel.
McQueens Dairies was already ramping up this side of its business. This year, it had committed to investing in a new dairy, opening new depots and hiring 100 more workers. Then lockdown measures were introduced – and a spike in demand ensued.
"The case for the return of milk to the door has been proven"
Users comprised "a combination of customers who had already been looking for a doorstep delivery service and those seeking a safe and reliable alternative during lockdown", says chairman Mick McQueen. So the company ramped up its service even further.
"We increased the capacity of our chillers, increased production volumes and increased the number of vehicles in the fleet. We secured the additional raw milk required and our plastic bottle suppliers also responded to our needs, allowing us to maintain the increased demand," he says.
For McQueen, this demand is far more than a flash in the pan. "New customers continue to come to us, even after the easing of lockdown,"he adds. "The case for the return of milk to the door has been proven."
That long-term confidence is echoed at Müller's market-leading service, Milk & More. It signed up 85,000 online customers in the first eight months of 2020 – more than it did during the whole of 2019. "We experienced unprecedented demand for our service," says Milk & More CEO Patrick Müller. "At one point we were making 1.3 million deliveries a week." Deliveries have since dropped off but only slightly, now averaging at 1.2 million per week.
Those figures have been something of a godsend for its suppliers. Take Longman's, which produces cheese, milk, butter and cream from its base in Dorset. Pre-pandemic, it made around 60% of revenue through wholesale and foodservice. After Covid hit, it signed up to Milk & More. "Suddenly, we became 90% retail and 10% foodservice," says Longman's operations director Chris Slocombe. As such, the business has added smaller blocks of cheese "more suited for people to use at home". Other Milk & More suppliers report the growing channel has "almost made up for the lost revenue" from foodservice.
"It's been a saviour in terms of bumping up sales, and it's a saviour for the local community"
It is perhaps critical that Milk & More offers, as the name suggests, more than just milk. Because a one-stop shop holds a particular appeal for shoppers, says Butlers Farmhouse Cheeses.
Just days after lockdown measures were introduced, it launched spin-off website Butlers Larder. Starting as a means of selling produce originally destined for foodservice, its cheese options initially only included its unsold blue and soft variants.
The service has since grown. By collaborating with other specialist suppliers in the north west, the website offers users a "complete shop" of fresh and ambient produce.
Owner Matthew Hall says that proposition is key to its success. "The reality is, the consumer doesn't want to go around half a dozen different sites, spending £50 minimum each time, and end up with a freezer full of product," he argues.
Hall admits it has been hard work. The e-commerce offer was built in "three feverish days", he recalls, and there is a lot of "grit and grunting in the small hours of the morning" that goes into picking and packing orders.
However, Hall believes it has been worth the effort. "It's been a saviour in terms of bumping up sales, and it's a saviour for the local community," he says.
So far, the service has attracted around 2,000 customers and is close to turning a profit. Basket spend continues to increase, and Butlers is now growing its fleet of vans. "We've got a solid, loyal customer base and I'm confident if anything else goes awry in the next few months even more people will find us," Hall says.
Partnerships
Butlers isn't the only one that has sought to provide shoppers with a comprehensive offer. To that end, partnerships have also been forged between dairy and non-dairy suppliers.
Some have been temporary. For several weeks through lockdown, Longman's Dairy teamed up with foodservice vegetable supplier French Garden to offer 10kg boxes of produce online.
Other initiatives have been more lasting. Partnerships forged in a hurry to improve online offers – like the one between The Dorset Meat Company and dairy wholesaler Leopard Dairy – are expected to continue long beyond the pandemic.
Earlier in the year, Dorset Meat added around 25% extra lines – all sourced from Leopard Dairy – to its range. "This is something we're looking to increase further, by an additional 50% within the next couple of months," says Nick Somper, co-founder of The Dorset Meat Company.
"It's simply part of our business now"
"At a time when sales were particularly good for us, we felt it was important to help our local cheesemakers pivot towards new e-commerce platforms and offer this direct to consumer avenue," adds Somper.
Again, the idea of a one-stop shop was a key attraction. "Although some of our suppliers were already set up online, it's proven more appealing for customers to be able to do a wider shop on one platform, while getting a better level of quality than you'd normally find in the supermarket," he says.
It's just one example of how DTC has proven a lifeline for suppliers in the pandemic, and met a genuine consumer need in the process. But if Covid was how these operations started, that won't be how they end. For many, DTC is now part of their long-term plans. As Hall of Butlers puts it: "It's simply part of our business now.
The last mile: different routes to dairy delivery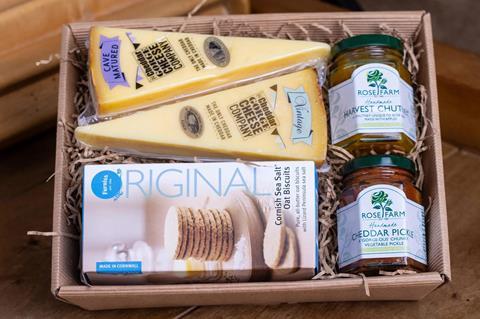 The last mile is always tricky. But particularly for dairy suppliers who want their goods to arrive at their best.
"We're selling a premium product and we really have to deliver it in good condition," points out Cheddar Gorge Cheese Co MD John Spencer.
The company tested a variety of packaging, sending samples through its courier DPD to staff and friends across the country before launching its DTC service. "We recorded temperatures on arrival and figured out very quickly the best combination of packaging," Spencer says. "The only way to know for sure is to do it yourself."
Furthermore, Cheddar Gorge wanted to be eco-friendly, which ruled out the use of polystyrene. So its cheese arrives in a double-wall cardboard box with two reusable ice packs and biodegradable starch chips.
Neal's Yard Dairy has had similar challenges. It also sends products via DPD, although some orders close to stores are fulfilled by the company's own drivers. It worked with packaging maker Woolcool to design a bespoke box liner made from 100% low-grade sheep wool. "We want the cheese to arrive at its best with minimal environmental impact," the company says.
The wool is biodegradable, compostable and sealed within a recyclable plastic cover. Customers are encouraged to reuse the Woolcool liners as frost protectors for plants or in craft projects.
Ice packs are also included in orders. "Our customers use them for everything from icing sports injuries to transporting chilled foods," Neal's Yard says.
Meanwhile, Butlers Larder took a different tack and avoided third-party couriers.
"Using the delivery companies has always been a frustration, owner Matthew Hall says. "We send it out in A1 condition and find the courier hasn't delivered it when they say they will, and it's melted by the time it gets to the customer. It's completely out of our control to do anything about."
Deliveries are now made by Butlers' own drivers on set days in each area served. The company is purchasing more vans for its fleet.
"We need to get that product to the market in its best possible condition, because that's part of what we do. We deliver it with the same love and care we make it with," Hall says.
Furthermore, the "interaction on the doorstep" has become an increasingly important part of the whole service, he adds.