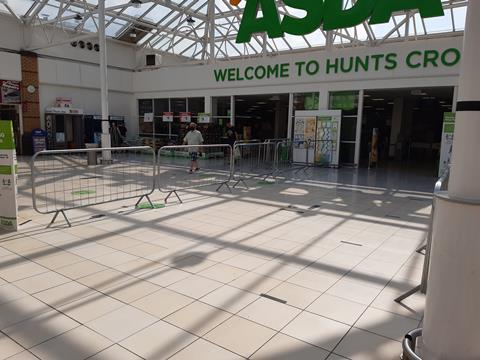 With the third week of the new Grocer 33 year, Asda has scored a hat-trick of wins – although the gap with its nearest rival narrowed.
The Walmart-owned supermarket took its third win in a row with a total of £64.83 – £2.28 cheaper than Morrisons in second place.
Asda offered the lowest price on 23 items and was exclusively cheapest on 14 lines. Of those, 11 were own-label and none offered more than a 50p saving (Kenco instant coffee on rollback), with some gaps as small as 2p (Crisp 'n Dry vegetable oil and Highland Spring Water).
Morrisons pushed Asda closer this week as it ran a whopping 14 promotions, including six price reductions and eight multibuy deals. Asda offered eight promos, with six price cuts, followed by seven at Tesco, five at Waitrose and just four at Sainsbury's.
Despite the level of promos, Morrisons only had 10 lowest priced products, with just two exclusively cheapest: Febreze air freshener and Kiddylicious Fruit Wriggles. The Febreze was a useful £1.50 cheaper than Asda thanks to an offer.
Sainsbury's finished £5.67 more expensive than Asda at £70.50. It offered seven lowest priced lines, with three exclusively cheapest, including ­cherries and a Danone Big Pot, both of which were on promotion.
Tesco slipped back into fourth place from third a week ago and was £7.34 behind Asda, a difference of over 10%. It offered the cheapest price on 10 lines, two of which were exclusively so: Fab ice lollies and peaches. The supermarket suffered as the Kenco instant coffee came off promotion to be £1.35 more expensive than Asda.
Waitrose continued to be off the pace, coming in at £16.33 pricier than the winning store. The Hemp milk was its only exclusively cheapest line, as a result of a 25% off promotion.