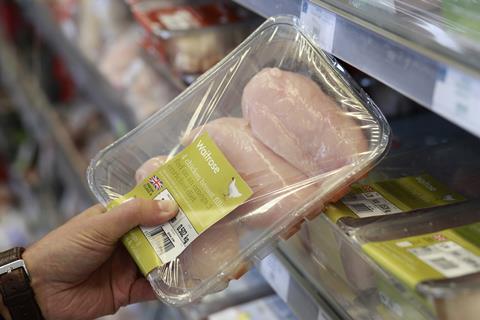 Waitrose continues to shine in service and availability, racking up yet another Grocer 33 store of the week award.
Its partners showed "excellent" customer service skills throughout our shopper's visit to the Mill Lane, Swindon store on Friday afternoon. One team member particularly impressed when she made the effort to bring our shopper the bagels she needed.
There were a number of staff on the shop floor restocking shelves but they did so without obstructing customers. The store had just one out-of-stock and one not-stocked item, as it claimed a strong score of 89.
The short queue for the tills was "very well managed" and our shopper praised the checkout operator's "very friendly" attitude.
This week's runner-up was Sainsbury's, which also boasted strong customer service, alongside well-executed coronavirus safety procedures. Although there was no queue to enter the Ringmead, Bracknell store, employees were on hand to monitor the number of customers entering and exiting.
Our shopper found the shop floor "pretty quiet," and its one-way system meant she had plenty of space to safely find items on her list. Staff were happy to escort her to products she was unable to spot and kept their distance while doing so.
Our mystery shopper welcomed the fact there was no wait for the tills and that the till operator demonstrated care while handling her shopping.
The only negative was the several "messy and empty" fixtures and aisles, with staff having left empty boxes behind after restocking as well.
Tesco in Callington was the only store with no out-of-stock items this week.
The petfood section was the only department with "significant" gaps, but our shopper came across signage to inform customers when they could expect the next deliveries for several missing SKUs.
The branch was generally clean too, aside from a spillage of sugar that had not been cleared up.
Our mystery shopper was also pleased the shop was "easy to navigate" thanks to its wide aisles and good signage.
Customers were seemingly left to their own devices when it came to queueing for the checkouts, though, and social distancing markers on the floor did not clearly illustrate where to wait for the next available till.
The first thing our shopper noticed in Morrisons Almondvale, Livingston was its calm and ordered atmosphere. Aisles were free from obstructions although there was a spillage, which was being attended to.
Morrisons dropped points for its layout, which made it difficult for our mystery shopper to find items, but employees were "eager to assist".
Its team was also working hard to replenish shelves and managed the line for the tills "very well".
In a strong week all round Asda in Tilehurst, Reading, came in fifth with a respectable score of 72.
Our shopper's main issue was what she perceived to be a lack of coronavirus safety measures, making her feel as if she was shopping in "normal times".
It also had the worst availability, with three out-of-stocks and four not-stocked lines, while its shelves were generally well-stocked.
Asda's score received a boost thanks to its intuitive layout and mostly "helpful and polite" staff accompanying our mystery shopper to items she couldn't spot herself.
| WEEK 29: Friday, 08/01/2021 (4pm - 7pm) | | | | | WINNER |
| --- | --- | --- | --- | --- | --- |
| Service and availability | Asda | Morrisons | Sainsbury's | Tesco | Waitrose |
| Location | Tilehurst Reading | Almondvale Livingston | Ringmead, Bracknell | Callington | Swindon |
| Car Park (10) | 9 | 8 | 10 | 10 | 10 |
| Store standards (20) | 14 | 17 | 13 | 15 | 14 |
| Store layout (10) | 8 | 3 | 8 | 6 | 8 |
| Shop floor service (20) | 16 | 17 | 17 | 15 | 20 |
| Tills and checkouts (20) | 15 | 19 | 19 | 17 | 20 |
| Availability score (20) | 10 | 16 | 15 | 18 | 17 |
| TOTAL SCORE (100) | 72 | 80 | 82 | 81 | 89 |
| Out of stock/not stocked | 3/4 | 2/0 | 2/1 | 0/2 | 1/1 |
| Availability % | 89.7 | 93.9 | 93.8 | 100.0 | 96.9 |