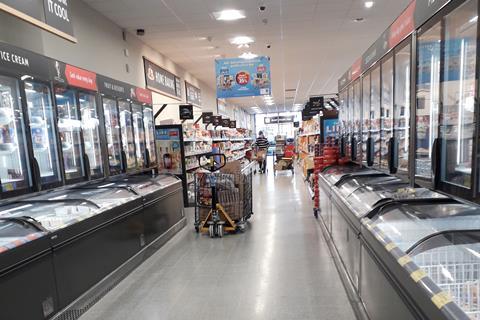 Guest retailer Aldi took the top spot with a total of 79 points after providing our shopper with her "fastest and most stress-free" mystery shop to date.
The discounter's Shiremoor branch impressed with its efficiency and tidiness. Our shopper considered the store to be "the perfect size" as well as easy to navigate. Additionally, she was happy to find only one item on her shopping list out of stock (the beansprouts).
Staff were helpful and polite, and the checkout colleagues did a particularly good job of managing queues and opening new tills when needed. All in all, our shopper was left "pleasantly surprised" by her shopping experience.
Just two points adrift was Sainsbury's and its "impressive" store in Maidstone. The branch was clean, tidy and well-attended by staff.
In addition, the store layouts and services were "very enticing and attractive" and promotions were clearly and neatly displayed. The only downside was three of our shopper's items were out of stock, though stock levels in the store were generally good.
Shop floor and till staff were all friendly, helpful and efficient, and our shopper was "really impressed" with her experience and would return.
Third-place Waitrose scored 70 points. Our mystery shopper described its Uttoxeter branch as the "cleanest, smartest shop I've seen". Customer service was "absolutely ace".
One thing the shopper didn't like was that the frozen aisle was located in the middle of the shop. But the main problem with this store was the lack of stock in some sections (five of our groceries were not available) – though for the most part there were suitable alternatives.
Tesco in Burnham-on-Sea scored 66 points. Our shopper liked the fact the store opening hours were visibly displayed on a large sign on the building. However, she said the "uninteresting" bulk displays of end-of-season products made the store entrance feel cramped.
The food counters and bakery looked well stocked. The Tesco Finest £10 meal deal for two struck our shopper as interesting and good value.
There were some stock gaps throughout the store, particularly in salad, frozen food and soft drinks. There also appeared to be a lack of available staff at the time of the shop.
Asda lagged behind with 54 points. Its Belfast Westwood Centre superstore failing to impress our shopper, mainly due to poor availability and overall disorganisation. Despite gaps in shelves, only one item was out of stock and one was not stocked.
But what bothered our visitor most was the lack of queue management. There were only two tills open and staff failed to inform customers there were self-checkout tills available, which resulted in everyone joining the same queue. She ended up queueing for over 15 minutes and saw some people exit the store due to the waiting time.
On the plus side, the store standards were good and aisle promotions were well stocked and appealing.
Morrisons in Wakefield also turned out to be a "frustrating experience". Stock availability was low – 10 items were out of stock. And there was a leak from one of the freezers which stretched half the length of the aisle. It was poorly signalled, resulting in customers unintentionally walking through the spillage.
Our visitor also struggled to find staff around the store, and the lack of checkout colleagues made for long queues.